The ILRI 2018 Annual Report
>
In the lab
ILRI/Paul Karaimu
Building a bioinformatics community for agricultural sciences in Africa
ILRI's BecA-Hub is using cutting-edge science to help Africa achieve food and nutrition security
---
By Mwihaki Mundia 
The BecA-ILRI Hub (BecA) created an alumni community of over 300 national agricultural research systems researchers in Africa. To enhance the sustainability and multiplier effects of the program, it has for the past three years mobilized the alumni into synergetic partnerships, or Communities of Practice (CoPs), each centred around a priority research theme common in at least three countries. So far, 13 CoPs have been established, all of them aimed at advancing and accelerating research by harnessing the opportunities in high-end bioscience applications available at BecA.
As these CoPs were established, it became clear that there was a need to create a bioinformatics community of practice in data analysis that cut across them. This need gave rise to a collaboration between BecA and two UK institutes, the John Innes Centre and the Earlham Institute, under an umbrella initiative, the Alliance for Accelerated Crop Improvement in Africa. This is the first bioinformatics capacity-building effort geared towards agriculture in Africa.
The availability of genomic technologies and data is growing fast in Africa but there is a shortage of qualified capacity in data management and bioinformatics.
The bioinformatics frontier
The availability of genomic technologies and data is growing fast in Africa but there is a shortage of qualified capacity in data management and bioinformatics. Developing an active and self-sustaining community of African bioinformatics practitioners is in line with one of BecA's key missions: to build the capacity of African scientists who can help accelerate agricultural research in Africa by applying the latest bioscience tools.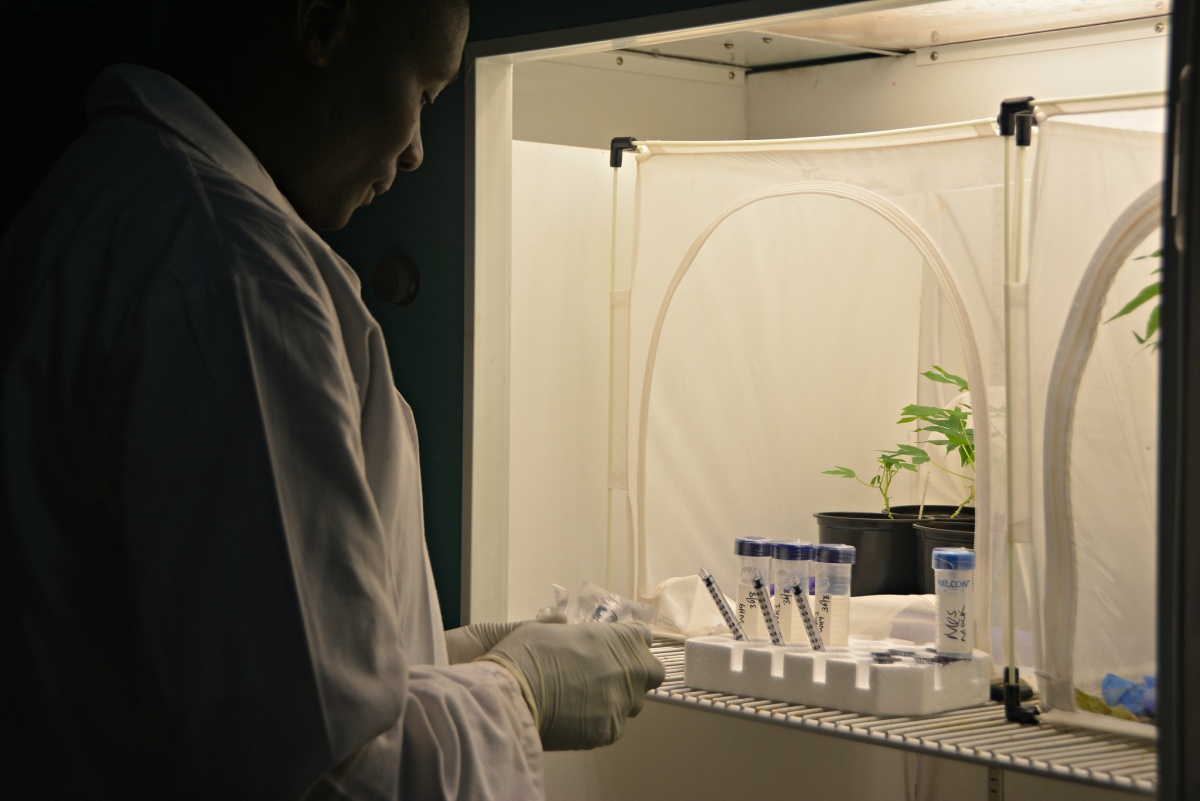 Jacob Mignouna, the director of BecA, says that 'Communities of practice are one of the most effective approaches I know of to optimize the human, technological and financial resources available in Africa'.
The first CoPs cohort, a careful selection of 14 early- to mid-career African researchers, began its work in April 2018, and consists of scientists from eight African countries: the Democratic Republic of the Congo, Ethiopia, Kenya, Nigeria, Sudan, Uganda, Tanzania and Zimbabwe.
The selection criteria for the group was based on their capacity to integrate new knowledge, desire to utilize bioinformatics as a key domain to enhance and empower agricultural biosciences in Africa, the stability of their home institutions and their willingness to be key players in the formation of a stable network of bioinformatics experts in Africa.
CoPs benefited from the experience of expert trainers from advanced research institutions for the formal training modules and mentors for the exercise periods. A total of 26 instructors from six countries and 10 institutions (including the partner institutions, John Innes Centre and Earlham Institute) participated in the training.
A three-phase approach
The program is implemented in three phases: Build, Empower and Amplify. The 'Build' phase was designed to equip early-career African scientists with core bioinformatics skills pertaining to the analysis of genomics data in various forms. This phase, built around seven in-depth training modules, began in April 2018 and ended in October 2018.
The 'Build' phase was designed to equip early-career African scientists with core bioinformatics skills pertaining to the analysis of genomics data in various forms.
Feedback from the first phase was extremely positive. 'As a researcher based in an African institution, being a part of the Bioinformatics Community of Practice is an opportunity to learn and build capacity in the much-needed area of bioinformatics while building collaborations with other researchers', said Nigerian Henry Osaiyuwu Osamede, an animal scientist at the University of Ibadan. 'This will enhance my contribution to the improvement of the agricultural landscape and also help me in building capacity in my home institution'.
Mukani Moyo Okoba, a molecular biologist from South Africa, was equally laudatory: 'With the skills I'm learning, I can now teach students at my institution different methods of data analysis, enabling them to be self-reliant when they undertake projects that generate huge datasets that would have previously required a bioinformatics 'expert' to analyse'.
The 'Empower' phase began October 2018 and is projected to end in April 2019 with a transferable skills workshop. The workshop will cover a host of topics such as scientific communication to peers, scientific communication to the general public, grant proposal writing, working efficiently in teams and setting up a research group.
The final phase, 'Amplify', will start in April 2019 and will involve two regional workshops; part of the core training team will be members of the CoPs who will have a chance to transfer the skills gained in the first two phases. These workshops are planned to involve the delivery of eBioKits, provided by BecA's partnership with the Swedish University of Agricultural Sciences.
An eBioKit is a stand-alone educational platform that hosts numerous tools and databases for bioinformatics research and allows training to take place in a controlled environment. A key advantage of the eBioKit over the existing training methods and solutions is that all the required software and databases are locally installed on the system, significantly reducing the dependence on the internet and making it a computing platform of choice for resource-poor environments.
Foreword
---
2018 was a year of continuing progress and solid achievement for ILRI—and for that we remain both grateful and proud. Thanks to our staff, our partners, our donors and the governments with whom we work, ILRI is helping countless farmers and other stakeholders in the livestock sector in the developing world live better lives through livestock. It is helping to raise household incomes, improve human nutrition and health, fight devastating livestock diseases, breed more productive and drought-resistant animals, redress gender imbalances, enhance biodiversity and develop livestockrelated policies that will address, mitigate and adapt to climate change.
In past reports, we've noted that the global demand for animal-source foods continues to grow rapidly in developing and emerging countries, a phenomenon we've dubbed the "livestock revolution." In Africa, for example, the demand for livestock-derived foods is projected to increase by 80% from 2010 to 2030, mostly because of population growth. Asia, already the largest consumer of livestock-derived foods, will see a nearly 60% jump in consumption—and much of that will be due to rising incomes and greater urbanization.
The breadth of the opportunities these figures represent requires new science and new research results that are taken to scale. This report highlights just a few of the many activities ILRI staff have undertaken in the past year.
felixioncool
In the lab
Good science is the foundation of ILRI's work
ILRI Information products 2018
ILRI/Zerihun Sewunet
In the field
ILRI is committed to research for development
ILRI Offices and staff worldwide
ILRI/Apollo Habtamu
Capacity building
Building local capacity and mentoring the next generation of agriculture scientists
Top 2018 science publications from ILRI programs