The ILRI 2018 Annual Report
>
In the lab
ILRI/Jules Mateo
RHoMIS: A rapid, standardized and cost-effective tool for tracking agricultural performance
A tool developed by ILRI to help researchers monitor progress of various agricultural interventions towards climate change adaptation and mitigation is becoming widely adopted
---
By Sarah Kasyoka
Researchers at the International Livestock Research Institute (ILRI) developed the Rural Household Multi-Indicator Survey (RHoMIS), a tool to rapidly measure an array of key indicators regarding agriculture and climate change, including agricultural production and market integration, nutrition, food security, poverty and greenhouse gas emissions. RHoMIS, rolled out in May 2015, has so far been adopted by more than 10 research and development organizations.
Stakeholders in the sustainable development field devote time and financial resources to collect baseline information regarding smallholder livelihoods. Even though parameters under investigation are usually quite similar from project to project, the standard practice was for every organization or group to develop its own specific tools and analysis methods. The upshot is that it can be very difficult to compare projects, because there is no standard yardstick to measure impacts. The RHoMIS tool allows data from many projects to be pooled, thereby building a coherent, large dataset permitting cross-site analyses.
It can be difficult to compare projects, because there is no standard yardstick to measure impacts.
The need for standardized and validated tools
The need for tools that can produce standardized, coherent and cost-effective information to support development initiatives cannot be understated—and in no area of agriculture is there a greater need for precise, standardized measurements than climate change mitigation and adaptation. The RHoMIS framework has already been applied to projects in more than 22 countries, with close to 17,000 households participating in interviews. RHoMIS is financed by donors including the United States Agency for International Development (USAID), the United Kingdom Department for International Development and the Bill & Melinda Gates Foundation.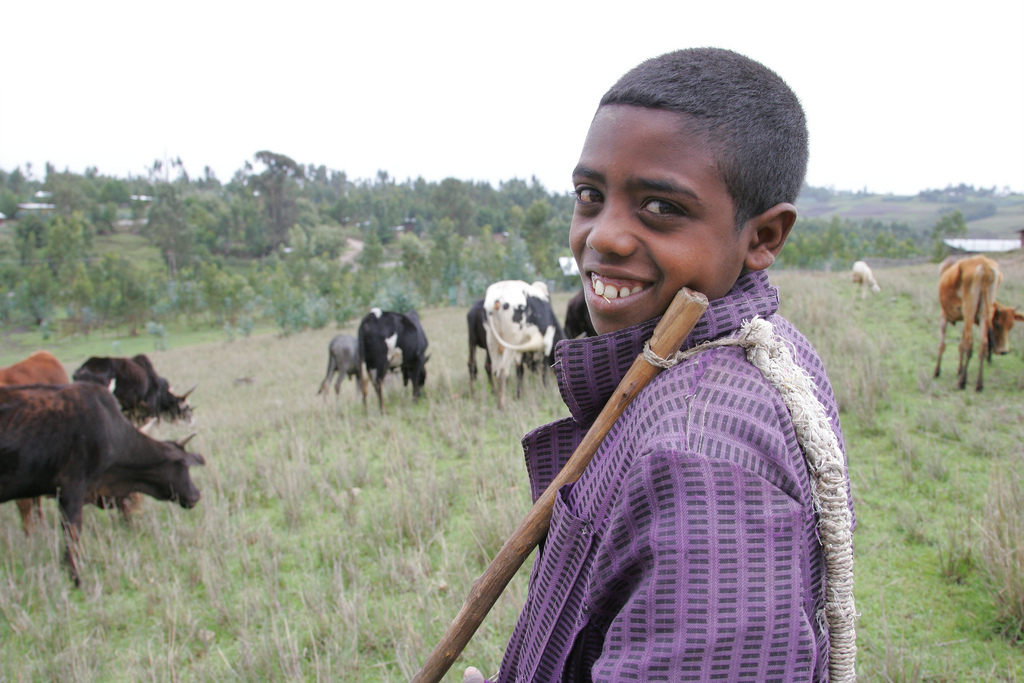 RHoMIS is particularly helpful for Climate Smart Agriculture (CSA), an approach for transforming agricultural systems to effectively support development and ensure food security in a changing climate. CSA has three main pillars: achieving food security, adapting and building resilience to climate change and reducing greenhouse gas emissions to mitigate further climate change.
The RHoMIS framework has already been applied to projects in more than 22 countries, with close to 17,000 households participating in interviews.
In order to achieve CSA, the links between farming and livelihood practices, other possible adaptation options and their effects on farm performance must be understood. Using RHoMIS, researchers can assess the various opportunities available for CSA at the household level. For instance, RHoMIS has been used to evaluate agricultural interventions such as bean variety uptake, use of non-timber forest products and livestock vaccination. New analyses will also be conducted in collaboration with the Mazingira Centre based at ILRI to improve estimates of greenhouse gas emissions in the context of livelihoods. The RHoMIS framework is therefore contributing to efforts to address the challenges of climate change, nutrition and livelihoods. The framework is a flexible digital platform built on open-source software that can be easily modified to meet a range of needs while collecting a core set of data that feed into the global agenda on CSA.
On-the-ground impact
In Burkina Faso, Tree Aid, a nongovernmental organization that works to create sustainable communities in isolated and arid regions of Africa, successfully used RHoMIS in its program to support the enhancement of Non-Timber Forest Products (NTFPs). For this project, RHoMIS was selected as the preferred survey tool because its core modules provide the researchers with data for Key Performance Indicators (KPIs) such as household-level income, income from NTFPs and dietary diversity. Nine surveys were conducted, with 4,291 households reached. The project team indicated that RHoMIS is well suited to Tree Aid projects because their interventions often focus on household levels with numerous KPIs and project level indicators fixed at a household level. Data collected through this framework is expected to improve organizational and project-level evaluation and learning as well as improve project management decision-making.
In Vietnam, RHoMIS has been used by the International Center in Tropical Agriculture in the project, 'Hand and Minds Connected to Boost Eco-Efficiency of Smallholder Livestock-Crop Farms'. The project seeks to increase innovation capacity within the agricultural sector in Lao, Cambodia and Vietnam to generate eco-efficient smallholder livestock-crop systems. RHoMIS was used to collect baseline data for the project on which consecutive work focusing on soil fertility was based.
In Ethiopia, RHoMIS was used to survey 800 households within the USAID-funded AfricaRISING program. In this exercise, RHoMIS was adapted to cover the most important indicators of the Sustainable Intensification Assessment Framework, developed by the Kansas State University and the University of Florida through funding provided by USAID. This framework assesses the short- and long-term sustainability of agricultural intensification options and has been widely applied in Feed the Future programs.
To find out more, go to the RHoMIS website.
© 2023 International Livestock Research Institute