The ILRI 2018 Annual Report
>
In the field
ILRI/Muthoni Njiru
Securing rangelands and settling conflicts through village land use planning in Tanzania
ILRI is helping pastoralists and farmers in Tanzania's Kiteto District develop land use strategies that enable both communities to reduce conflicts and improve natural resource management
---
By Sarah Kasyoka
The International Livestock Research Institute (ILRI) implemented a research-for-development project that helped to secure nearly 150,000 hectares of contested grazing land for livestock grazing in Kiteto District in Tanzania. The Sustainable Rangeland Management Project (SRMP) helps to reduce sometimes deadly conflicts among land users in the area, a problem which has grown increasingly severe in recent years. The project also contributes to improving productivity of the land and enhancing environmental services.
SRMP works with national and local authorities to secure rangelands and the land rights of local rangeland users including pastoralists across the country through the implementation of village land use planning and land certification. The ILRI-led project, working hand-in-hand with the Ministry of Livestock and Fisheries, not only supports individual village land use planning, but more importantly joint village land use planning (JVLUP) to secure resources across village boundaries.
As land pressures grow, so have violent and sometimes fatal conflicts between these groups.
Disputes turn deadly
For several years, disputes over land have been a cause of food insecurity in Tanzania, affecting pastoralists, agro-pastoralists and small-scale crop farmers alike. As land pressures grow, so have violent and sometimes fatal conflicts between these groups. In Kiteto District alone, more than 34 lives were lost to these conflicts between 2013 and 2015. Insecure access to grazing lands, a lack of land use planning and continued encroachment of grazing areas by crop farmers and investors pushed pastoralists, who are important to the country's meat and dairy industries, from one area to another, with no clearly demarcated grazing areas.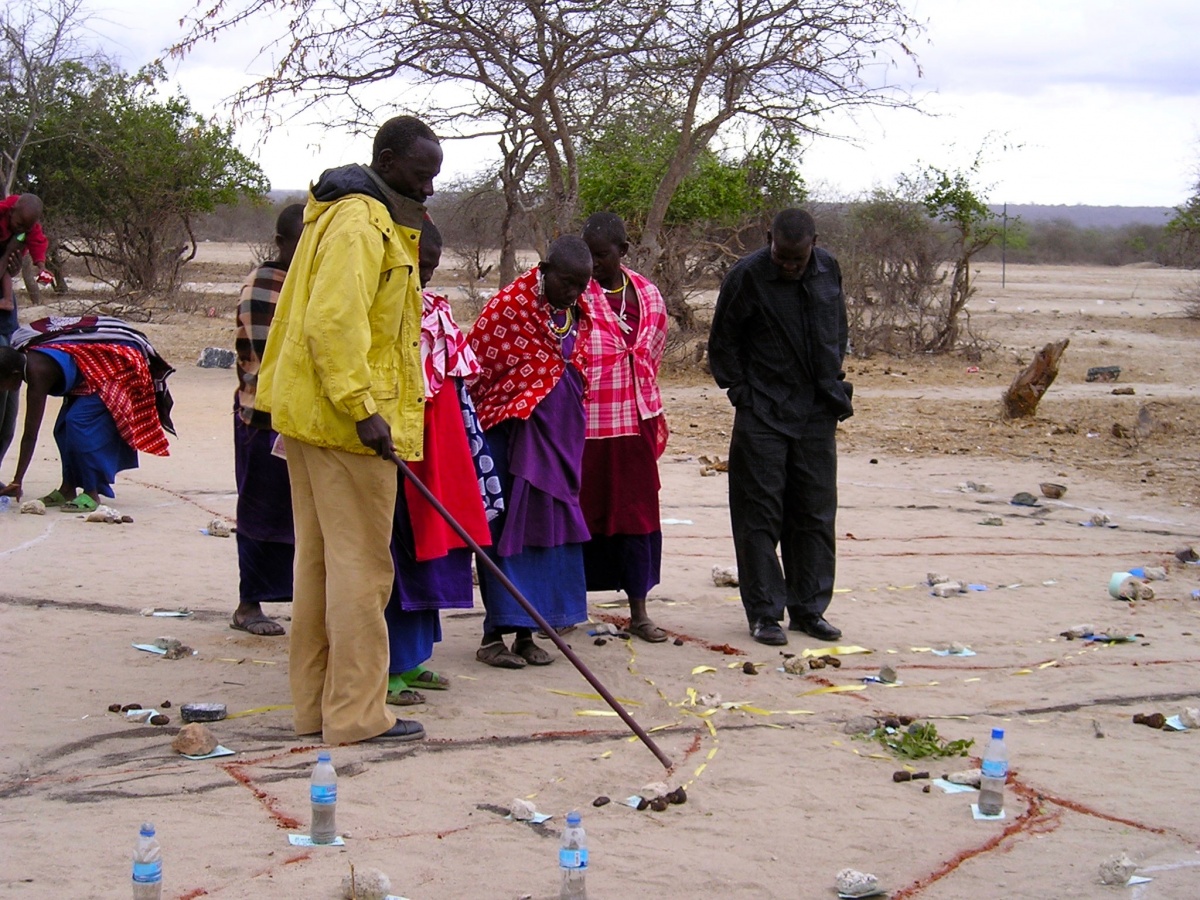 ILRI, through leadership of SRMP, worked with the Tanzanian Ministry of Livestock and Fisheries, the NLUPC, the International Land Coalition and international and local nongovernmental organizations to develop a process of JVLUP, which serves to protect shared resources such as grazing and water across village boundaries. JVLUP is a government process that had not been previously implemented. It builds on the individual village land use planning process and lays the foundation for the issuing of certificates of customary rights of occupancy (CCROs) as defined by land policy and legislation in Tanzania.
Planning land use
Through this process, ILRI and partners have been working with four clusters of villages who have developed village land use plans, a joint village land use plan, a joint village land use agreement and a joint livestock keepers' association. One such grazing area is shared by Amei, Loolera, Lembapuli and Lesoit villages and is named ALOLLE, from the names of the villages. In September 2018, the joint village land use agreement was signed and secured ALOLLE grazing lands of 98,000 hectares for village livestock and other shared resources. Community members are hopeful that this agreement could potentially bring peace to their villages. 'Our livestock will now move freely without any disturbance from other land users especially big farm investors who come into our villages and take vast areas of land leaving us landless', said Lang'ututi Lengiok, a livestock keeper from Loolera village. The villagers are now finalising the process of issuing group CCROs to the ALOLLE Livestock Keepers Association, which will increase the level of security over the shared grazing area. Plans are underway to develop a rangeland management plan for ALOLLE and access resources to invest in implementing the plan to improve productivity.
Secured grazing lands for pastoralists will not only ensure sustainable use of rangelands but will also reduce conflicts between pastoralists and farmers.
In an interview concerning the contribution of JVLUP, District Commissioner of Kiteto District Council,Mr Tumain B. Magessa welcomed these achievements: 'Having the shared grazing areas of ALOLLE and OLENGAPA is a major milestone in our district. Secured grazing lands for pastoralists will not only ensure sustainable use of rangelands but it will also reduce conflicts between pastoralists and farmers. It will also stimulate development as more time will be spent in production than in solving conflicts between land users. I recommend that this innovation of joint village land use planning be implemented in other villages in the district to resolve the prevailing conflicts between pastoralists and farmers'.
Implementation of JVLUP addresses major challenges facing pastoralists such as the lack of innovative options for meeting the needs of mobile and sedentary pastoralists, the incomplete designation of grazing land, and overstocking and overgrazing. These challenges were identified by the Tanzania Agricultural and Livestock Policy of 1997, and greatly affect the quality of life of pastoral communities and limit livestock production. Securing grazing lands and improving rangelands for livestock is therefore crucial for healthy rangelands, healthy livestock and healthy people. As Dr Stephen Nindi, director general for the NLUPC affirms: 'The government is committed to ensure that the process of village land use planning is expedited to improve productivity, conserve biodiversity and reduce land use related conflicts in the country. Securing grazing will improve economic development and sustainable management of rangelands'.
Impacts
At the same time, SRMP is an opportunity for demonstrating how research-for-development can be implemented with high-reaching policy impacts. In addition, ILRI conducts research in project areas on pastoral women, land tenure and governance. With the International Land Coalition through the Rangelands Initiative, ILRI has shared the experiences of SRMP with other governments and countries including the hosting of a learning visit from IFAD-Nigeria and other state governments.
In terms of high-level policy impacts, the JVLUP in Tanzania has been integrated into several government documents including the revised version of the NLUPC's Participatory Village Land Use Planning Guidelines and the National Land Use Framework 2013–33. ILRI and partners are now working to upscale the interventions to a new District, and to improve national understanding of the approach with a view to upscaling further.
Foreword
---
2018 was a year of continuing progress and solid achievement for ILRI—and for that we remain both grateful and proud. Thanks to our staff, our partners, our donors and the governments with whom we work, ILRI is helping countless farmers and other stakeholders in the livestock sector in the developing world live better lives through livestock. It is helping to raise household incomes, improve human nutrition and health, fight devastating livestock diseases, breed more productive and drought-resistant animals, redress gender imbalances, enhance biodiversity and develop livestockrelated policies that will address, mitigate and adapt to climate change.
In past reports, we've noted that the global demand for animal-source foods continues to grow rapidly in developing and emerging countries, a phenomenon we've dubbed the "livestock revolution." In Africa, for example, the demand for livestock-derived foods is projected to increase by 80% from 2010 to 2030, mostly because of population growth. Asia, already the largest consumer of livestock-derived foods, will see a nearly 60% jump in consumption—and much of that will be due to rising incomes and greater urbanization.
The breadth of the opportunities these figures represent requires new science and new research results that are taken to scale. This report highlights just a few of the many activities ILRI staff have undertaken in the past year.
felixioncool
In the lab
Good science is the foundation of ILRI's work
ILRI Information products 2018
ILRI/Zerihun Sewunet
In the field
ILRI is committed to research for development
ILRI Offices and staff worldwide
ILRI/Apollo Habtamu
Capacity building
Building local capacity and mentoring the next generation of agriculture scientists
Top 2018 science publications from ILRI programs