A gendered assessment in the production and use of feeds and forages: Insights from intensive and extensive livestock production systems in Uganda
A Gendered Feeds Assessment Tool (G-FEAST) study in Uganda that assessed gender differences in forage use and production constraints in three forage production clusters has highlighted the need to engage both men and women in production, management and use of improved forages. 
The study was part of the Feed and Forage Seed Business Models (FFSBM) project that is professionalizing the dairy sector in Uganda by addressing challenges of poor-quality, and access to, forage seed. The G-FEAST is a data-driven approach to real-time, detailed analysis of feeding constraints, taking account the local factors that influence fodder adoption. By using the tool, farmers and extension service providers can identify livestock feed interventions that are suited to local conditions and meet local needs, resulting in higher rates of adoption.
Livestock are a source of livelihood, social status, income and wealth in sub-Saharan Africa. They build the resilience of smallholder farmers to withstand climatic shocks and offer a unique development strategy in the region. 
In Uganda, the dairy subsector contributes about 9% of the national gross domestic product (GDP). According to the Uganda Dairy Development Authority (DDA), milk production in the country increased from 2.08 billion to 2.5 billion litres between 2015 and 2017/18. Additionally, it is expected that milk and beef production will increase as a result of improved efficiency in land use and livestock production systems. But the productivity of livestock in Uganda is negatively affected by climate variability. Most dairy production systems have an abundant supply of feed, resulting in wastage during the rainy seasons on one hand, and feed scarcity during the dry seasons on the other. These variations affect the quality and quantity of livestock feeds available to farmers.
The three-year Feed and Forage Seed Business Models project is being undertaken in intensive small farms systems (with farm sizes of 0.75–3 ha) in Mukono and Wakiso districts, where farmers rely on the cut and carry fodder-feeding system using Napier grass (Pennisetum purpureum), crop residues and collected feeds using Calliandra (Calliandra calothyrsus); the traditional extensive system (with farm sizes of 1–65 ha) in Kiboga District, where farmers practice grazing of the indigenous Ankole cattle albeit on unimproved grasses; and the improved extensive systems (farm sizes of 1–65 ha) in Mbarara and Kiruhura districts, where farmers graze their animals on improved and fenced pastures. In both the intensive and improved extensive systems, farmers mainly rear improved cattle and their crosses.
The project is developing viable business models for forage seed production and marketing to give farmers and other stakeholders economically sustainable access to high-quality forage seed. The project will also seek to improve the availability of high-quality forages all-year round resulting in reduced cost of feed, which will in turn result in increased milk production efficiency and stabilization of milk prices in Uganda.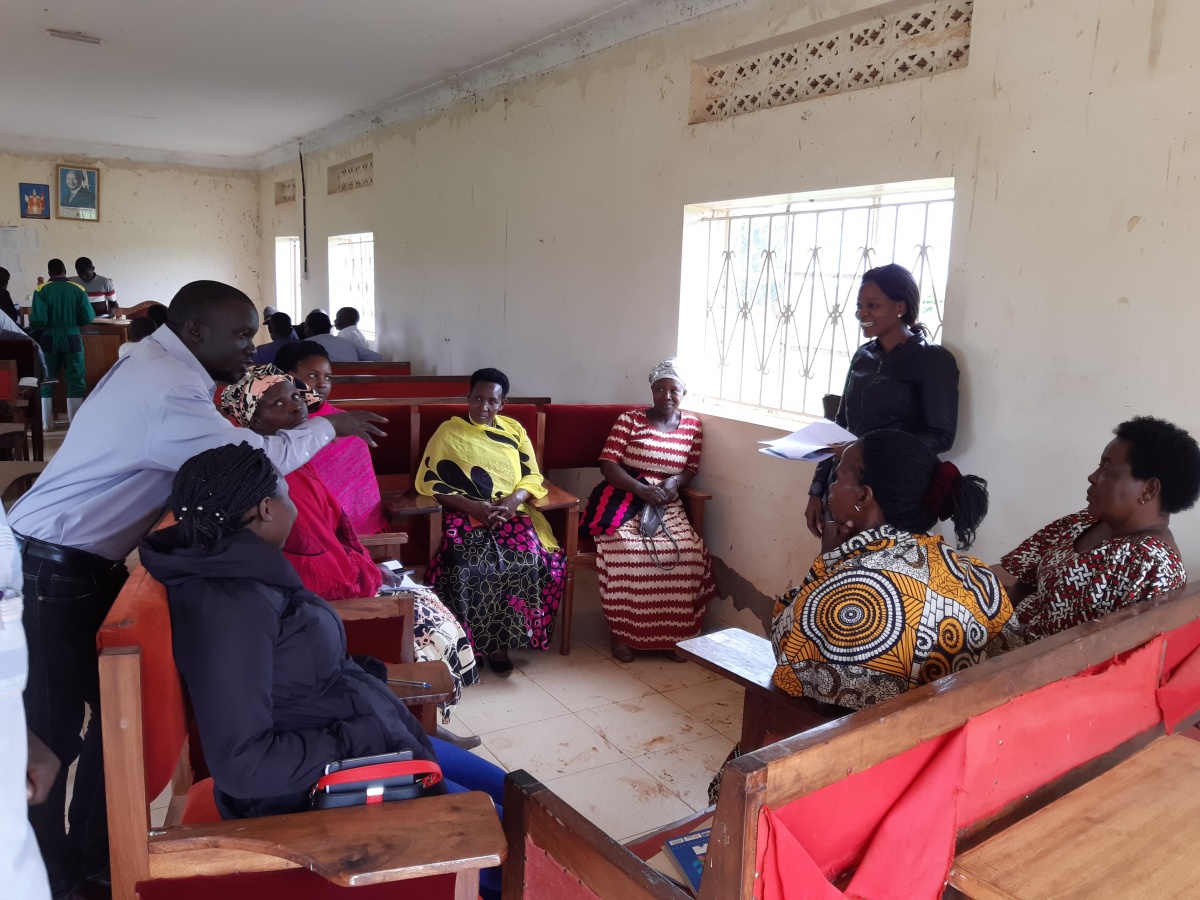 Female (Top) and male (bottom) G-FEAST sessions in Dwaniro, Kiboga District (photo credit: ILRI/Kevin Maina).
Results from the study show that farmers in the three systems rely mainly on green forages and crop residues as the main basal diet for their livestock, with the crop residues used more in the dry seasons when green forages are scarce. The seasonal variation in feed availability affects animal productivity resulting in fluctuations in the prices of milk and animals. 
'This study has confirmed that the costs associated with the production of hay and green forages make them expensive for farmers in the improved intensive and extensive systems. In addition, farmers in these areas use less than ideal amounts of concentrates feed to supplement basal rations, which limits livestock productivity,' notes Ben Lukuyu, ILRI's Uganda country representative and livestock feed scientist.
          
While availability of high-quality feeds remains the biggest challenge, animal diseases particularly East Coast fever (ECF) and conditions like antimicrobial resistance (AMR) are key problems for farmers in the country. The high cost of treating this disease and overcoming AMR is made worse by the existence of counterfeit drugs in the market and limited access to veterinary/extension services. Other challenges faced by Ugandan farmers include limited access to quality breeds and poor access to milk markets. Also, the available artificial insemination (AI) services in the project areas are unaffordable for most farmers and often of poor quality. 
To address these challenges, the project team recommends bridging of the knowledge gaps that prevent farmers from adopting improved feeds and feeding practices on farms through radio programs and farmer field schools and enhancing farmers' access to inputs and services such as concentrate feeds, drugs and vaccines for cattle. 
'Knowing the feed and forage problems and opportunities of farmers in their contexts enables researchers to design interventions that meet farmers' needs. The G-FEAST is not only able to identify constraints and opportunities; but it also provides the project team with the top five potential feeds and forages interventions that could work in local contexts,' adds Lukuyu.
The options that were identified and could form an entry point for discussion with farmers and other stakeholders about interventions that might work in their contexts included planting improved forages and improving existing pasture, training on forage/ pasture production, management and use, amongst others. Knowing these options increases farmer buy-in and the likelihood of them taking up successful interventions. 
Regarding gender relations, the study showed that both men and women are actively involved in decision-making on livestock and forages. In most households, decisions regarding livestock production are made jointly by both men and women and both genders have equal access to inputs and services. However, men in the extensive systems mostly make decisions regarding the sale of cattle. Women are more involved in husbandry practices such as ensuring that animals are fed, and cows milked. Income from the sale of livestock is shared differently across the study areas. In some households, decisions on what to do with the income are jointly made, while in others, men determine how the money is used, especially if large ruminants are sold. Women, more than men, are more involved in forages production at farm level and feeding of animals. In some small farm households, however, this responsibility is shared between men, women and children.
For related publications, see links below; 
https://hdl.handle.net/10568/113638
https://hdl.handle.net/10568/113637
https://hdl.handle.net/10568/113240
https://hdl.handle.net/10568/113560