New ILRI podcast series 'The Boma' launched
Today we are launching The Boma, a new international podcast about livestock across the developing world!
The Boma is named after the Swahili word for the traditional circular thorn bush enclosures of East Africa built to hold livestock and keep them safe from predators. Like a boma, each episode encircles something precious—in the case of our podcast, it is a mix of stories and research about livestock farmers of the Global South. Listeners will hear conversations located at the intersections of livestock issues and climate change, epidemics, hunger, gender inequality and more.
The first episode of The Boma asks whether researchers have left small-scale farmers behind in the search for better livestock feed. Better feed raises the productivity and sustainability of livestock, helping to fight hunger and malnutrition while supporting the livelihoods of some one billion poor people throughout the world. But out of over 22,000 studies on feed interventions, how many have looked at whether farmers have benefited?
Chapters
1.01  The CERES Report
2.42  A short history of livestock feed research
5.09  Why farmers can't use the same feed options
7.01  Crop residues as a livestock feed
8.08  Where feed research fell short
10.28  It's important to work across disciplines
12.04  What are the recommendations for the future?
Subscribe: Apple Podcasts | Amazon Podcasts | Google Podcasts | Spotify | RSS | More
This question was investigated in a recent study led by Isabelle Baltenweck, leader of the Policies, Institutions and Livelihoods program at the International Livestock Research Institute (ILRI), headquartered in Nairobi, Kenya. Baltenweck joins Tim Offei-Addo, host of The Boma and Princeton-in-Africa Fellow at ILRI, and interviewer Jeremy Cherfas, producer of Eat This Podcast, to reveal the findings of this new study. Baltenweck discusses the impact development experts have had and how researchers can help livestock farmers access better feed in the future.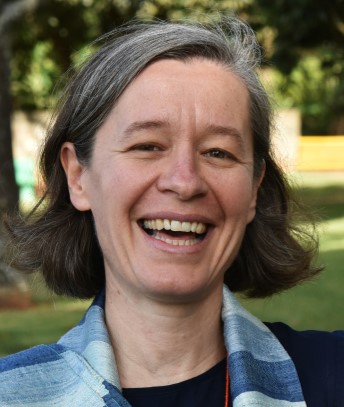 Isabelle Baltenweck, leader of PIL at ILRI
Baltenweck emphasizes that development experts must propose interventions that are 'relevant and sustainable for [the] community'. She points out that farmers who produce milk or meat for home consumption find it very difficult to adopt new feed options, whereas farmers who have an opportunity to sell to a market can benefit greatly from better feed. This is a great opportunity for donors and public officials to target funding to projects that are developing livestock and feed market opportunities or working with farmers who already have access to such markets.
The study identified a dearth of research around 'crop residues'—the leftover plant material, such as maize stover, sweet potato vines and groundnut haulms—after the grain, tubers and legumes have been harvested for human consumption. Crop residues are a significant and growing feed source for smallholder livestock farmers, who struggle to feed their cattle, goats and sheep enough good-quality feed. But until now this source of readily available feed has often been overlooked by livestock scientists.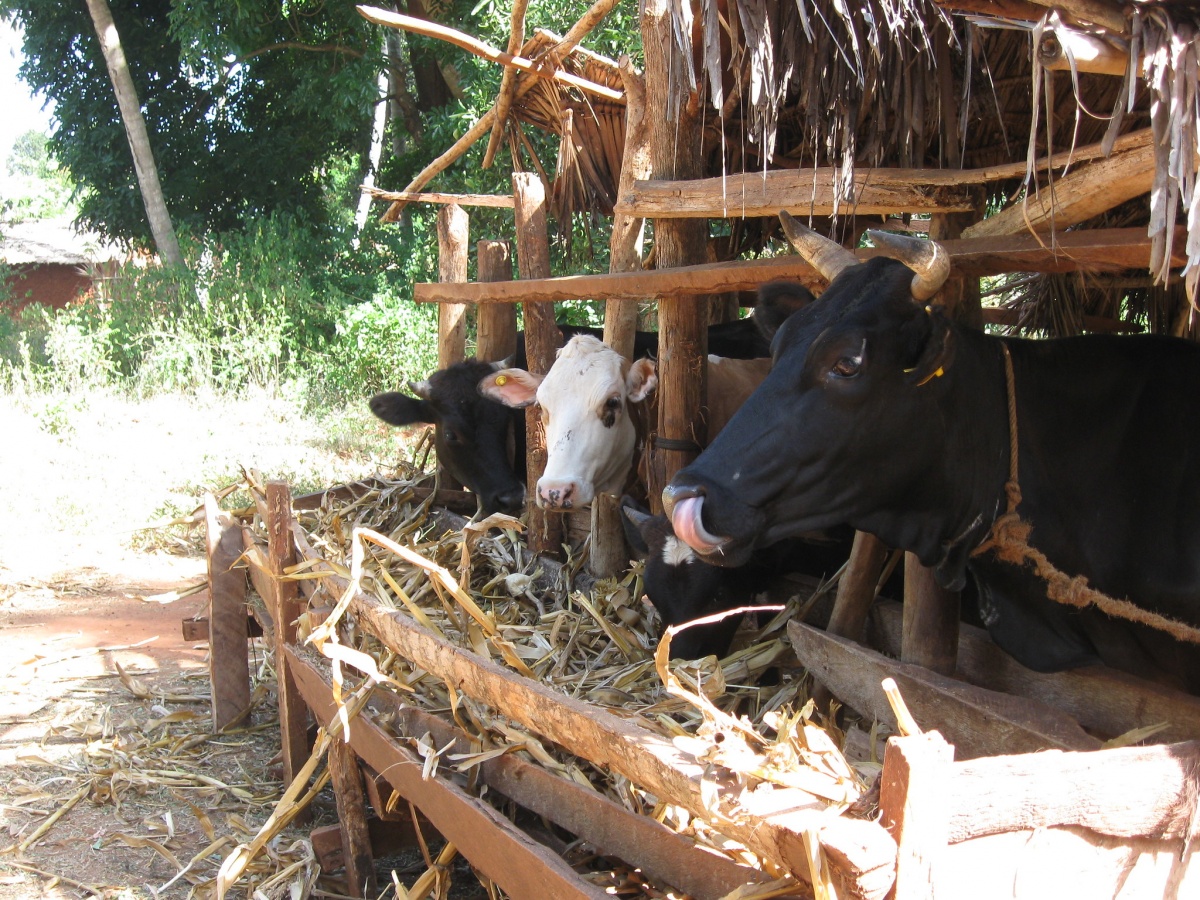 Maize stover is a main cattle feed during the dry season in Tanzania. Photo credit: ILRI/Brigitte L. Maass
The feed potential of crop residues was highlighted in a recent ILRI news article reporting the identification of new genomic regions associated with maize stover quality by researchers at the International Maize and Wheat Improvement Center (CIMMYT) and ILRI. These findings will make it easier for breeders to develop new 'dual-purpose' maize varieties that produce high yields of maize stover for livestock as well as grain for people. One of the co-authors of this study included the late Michael Blümmel, a principal scientist and deputy program leader in the feed and forage development program at ILRI and a champion of research on crop residues.
Additionally some fascinating research is using second generation biofuel technologies to unlock the full potential of crop residues. ILRI scientists have been working with scientists at the Indian Institute of Chemical Technology (IICT) to develop a process to break down the indigestible carbohydrates in crop residues, freeing up to 70 percent more nutrients for livestock.
The new paper by Baltenweck and colleagues, published in the scientific journal Nature Plants, was selected to be part of the Ceres2030 report, a research project dedicated to finding solutions to end hunger by 2030.
Listen to the full episode of The Boma to learn about the feed interventions study and why more collaborations between crop breeders, economists and sociologists will be key to designing new and innovative feed interventions. And subscribe to The Boma to listen to new episodes as we discuss how livestock contribute to solving some of the biggest challenges of our time, including hunger, poverty, climate change, disease epidemics and more.  
The Boma is hosted by 'Advancing Investment in Sustainable and Equitable Livestock Systems', an ILRI-led project funded by the Bill & Melinda Gates Foundation.
Visit the webpage https://theboma.buzzsprout.com/ to find out more.
Watch the trailer below: