What rapid COVID-19 antibody test kits can and cannot tell us
Johanna Lindahl, a veterinary epidemiologist at the International Livestock Research Institute (ILRI) who is normally based in Hanoi, Vietnam is stuck in her home country of Sweden due to the ongoing travel restrictions put in place to stem the spread of COVID-19. Lindahl has been working with some of her Swedish colleagues on a variety of projects to support COVID-related research. One of these is around diagnostic testing.
Diagnostic testing for the virus that causes COVID-19 disease, known as SARS-CoV-2 (severe acute respiratory syndrome coronavirus-2) is still in its infancy and there is not much available evidence as to the efficacy of many of the test kits being used.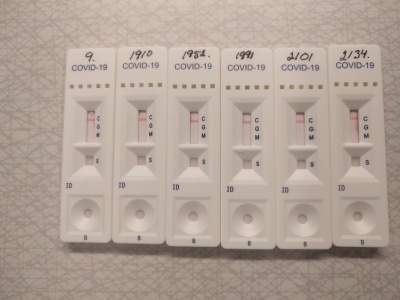 A new paper published this week by Lindahl and scientists from Uppsala University, in Sweden, evaluated a Chinese manufactured kit developed to detect SARS-CoV-2-specific antibodies. Results indicate that the kits reliably identify those people who have been infected with SARS-CoV-2. However, the results cannot help to identify individuals who have developed immunity to COVID-19.
The most common way to diagnose COVID-19 is using a 'reverse transcriptase polymerase chain reaction' (RT-PCR) test, which directly detects the presence of viral genes, confirmation of which tells you that there is an ongoing infection. This test can disclose whether or not someone has the virus very early on in a potential infection. A second way to diagnose a COVID-19 infection, as mentioned above, is to test for the presence of human antibodies specific for the virus. The presence of such antibodies in an individual confirms that that individual has been infected with the virus sometime previously, as antibodies are generated by individuals only after a week or two following their infection with the virus, at which time the virus should have been cleared from the system.
"The best way to know if a person is currently infected with the virus is through a PCR-based test. However, to know if people have been exposed to the virus in the past, we need tests that detect antibodies. There are still so many things we do not know about the immune response to this novel coronavirus", says Lindahl.
This study analysed blood samples from 29 PCR-confirmed COVID-19 patients or convalescents, capillary blood samples from 24 healthy volunteers and 100 negative controls from healthy individuals. All samples were analysed anonymously in accordance with local ethical guidelines.
The results showed that the test kit generally works well. In the 29 PCR-confirmed cases, SARS-CoV-2-specific antibodies were found in all but 2 blood samples. Healthy blood donors tested negative, with only one false positive result. While this study showed a satisfactory performance of this rapid (results within 15 minutes) antibody test, it is limited by being compared only to clinical cases and PCR-positivity. The high negative predictive value indicates that the test will be useful for detecting past infections with the virus and, potentially, immunity to the disease. Widescale use of such a test could support development of risk-based approaches to restoring social and economic activities and getting people back to work. 
But Lindahl warns of misinterpreting the results of such tests. 'The test cannot tell you if you are immune to the disease or not, or tell you if you are currently infected or not, but it could be employed to help understand the magnitude of the spread of the virus in different geographical areas. As our paper explains, "Due to the limited testing in many geographical regions, it is clear that the total number of actual COVID-19 cases is much higher than the number of confirmed ones." The test is currently being used in some countries.'
The research reported on this week contributes to better understanding both the potential and the limitations of such tests.
Lindahl and researchers at ILRI are researching COVID-19-related issues, including carrying out a 'knowledge, perceptions and attitude' survey in several countries to better understand awareness, concerns and practices about the ongoing pandemic, with a particular focus on food security and livelihoods. In addition, they will be investigating the impacts on the poultry industry of the culling of chickens in India, where misperceptions about coronavirus in chickens led to mass culling of birds, which then reduced the availability of food.
Read another recent article by ILRI and other CGIAR scientists on zoonotic diseases like COVID-19: Africa's growing risk of diseases that spread from animals to people, ilri.org, 8 Apr 2020.
Find more ILRI resources on zoonotic infections on this landing page on ILRI's website: ILRI expertise on zoonotic diseases.
Read more about the usefulness, and not, of COVID-19 antibody tests: Will antibody tests for the coronavirus really change everything?, Nature, 18 Apr 2020.