The annual meeting of the Taiwan Society for Risk Analysis explored risk analysis in Vietnam
The annual meeting of the Taiwan Society for Risk Analysis held on 28 July 2023 provided a platform for experts and researchers to delve into the challenges, developments and collaborative prospects in risk analysis. A particular highlight was the presentation titled 'Risk analysis in Vietnam: Current status and ways forward', delivered by Tran Thi Tuyet Hanh from Hanoi University of Public Health (HUPH) and her co-authors from HUPH and the International Livestock Research Institute (ILRI).
In Vietnam, the challenges of risk analysis have been diverse, ranging from issues of food safety to lack of consumer trust, drinking water supply, sanitation, waste management, air pollution, climate change impacts and zoonotic diseases. The presentation underscored the significance of these challenges in driving the need for risk analysis. One notable concern was the ineffective implementation of risk communication strategies, primarily through unregulated mass and social media channels, relaying inaccurate information to the public.
Hanh's presentation also highlighted advancements in risk analysis training and research in Vietnam since the 2010s. Although formal programs in environmental health are few, HUPH offers specialized courses in risk assessment and risk management. Short trainings conducted by the Ministry of Health, Ministry of Agriculture and Rural Development, World Health Organization and other institutions have also contributed to capacity building in risk analysis.
The event showcased two significant projects, PigRISK and SafePORK, funded by the Australian Centre for International Agricultural Research and led by ILRI and partners, including HUPH, Vietnam National University of Agriculture and the National Institute of Animal Sciences. PigRISK (2012–2017) enhanced pork safety through Salmonella risk pathways development, quantitative risk assessments for consumers, and chemical risk assessments for antibiotics and heavy metals. SafePORK (2017–2023) focused on improving pork safety through interventions such as grid slaughter, frequent washing, and disinfection at slaughterhouses and traditional markets.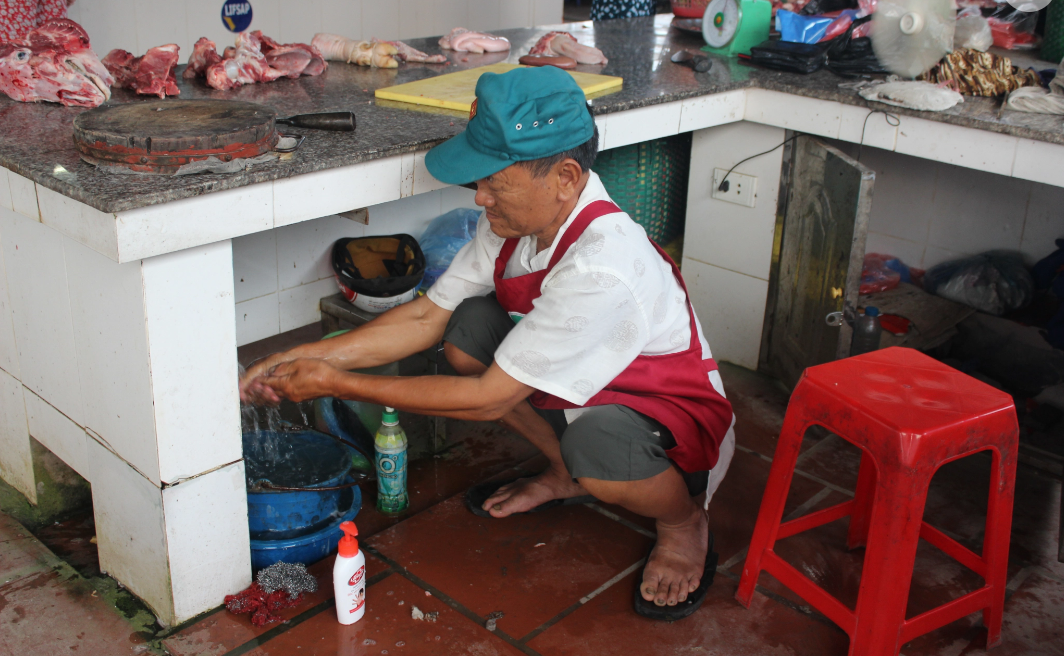 Also addressed at the annual meeting were ongoing risk assessments, including a study on wastewater in Ha Nam Province, which highlighted health risks associated with contaminated vegetables and fish. Additionally, the challenge of dioxin contamination in areas like Bien Hoa and Da Nang City was discussed, emphasizing the importance of risk assessment and management.
The establishment of a Food Safety Risk Analysis technical group by the Ministry of Health on 27 April 2023, was highlighted as a crucial step in policy translation. This group aims to bring together researchers and managers from different agencies to strengthen food safety risk analysis practices.
Looking back at the last decade, Vietnam has developed its capacity in health risk assessment research, training and intervention. This has been the result of combined efforts of different programs at universities and research institutes as well as implementation of policies to promote a risk-based approach to managing health and environmental risks, for example the food safety law.
While concluding the event, participants discussed future opportunities for collaboration, emphasizing training, capacity building, and joint research projects in risk assessment, communication and management. The event successfully provided a platform for researchers and practitioners to address the complex challenges of risk analysis in Vietnam and elsewhere.
Read more:
Hung Nguyen-Viet, D. Grace, Phuc Pham Duc, Sinh Dang Xuan, Toan Luu Quoc, F. Unger, S. Vlieger, Ngoc Pham Thi, Nhiem Duong Van, Long Nguyen Hung, Luan Tran Dinh and Tran Thi Tuyet Hanh

.

2018. 

Research and training partnership to assist policy and capacity building in improving food safety in Vietnam

. 

Global Food Security

, Vol. 19, pp 24

–

30. 

https://doi.org/10.1016/j.gfs.2018.08.009

Trần Thị Tuyết Hạnh, 

Nguyễn Việt Hùng và cộng sự. 2016. Đánh giá nguy cơ Sức khỏe môi trường- Nghề nghiệp

(

Text book on Environmental Health Risk Assessment for Public Health undergraduate students, Majoring in Environmental Health

). 

Nhà xuất bản Lao động Xã hội.

Nguyễn Công Khẩn, Nguyễn Việt Hùng, 

Trần Thị Tuyết Hạnh và cộng sự

. 

2011

. Đánh giá nguy cơ vi sinh vật trong thực phẩm tại Việt Nam.

Nhà xuất bản Y học, Hà Nội

.