Down memory lane: a snapshot of my memorable moments in my nine years of service at ILRI
I joined the International Livestock Research Institute (ILRI) in April 2014. I am leaving nine years later having risen through the ranks to become head of capacity development. It has been a pleasant journey, lased with memorable moments. As I make my next career move to join the Mastercard Foundation, I feel proud to share a few of my moments while at ILRI, which I will forever cherish.
Pitching ILRI's capacity development portfolio: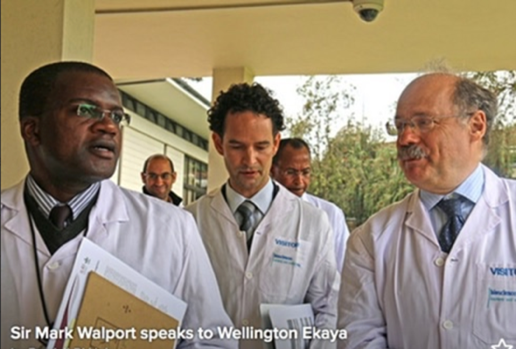 In 2015 Sir Mark Walport, the UK Chief Scientific Advisor visited ILRI. I had a one-on-one conversation with him, pitching the innovative and transformative approaches in ILRI's capacity development portfolio, and how ILRI contributes to growing transformational next-generation livestock sector professionals. It was an enjoyable conversation that greatly inspired me, and which yielded results a few months later.
Featured  Intellectual Asset: The mandate of the Technical Centre for Agricultural and Rural Cooperation (CTA) came to a close in 2020,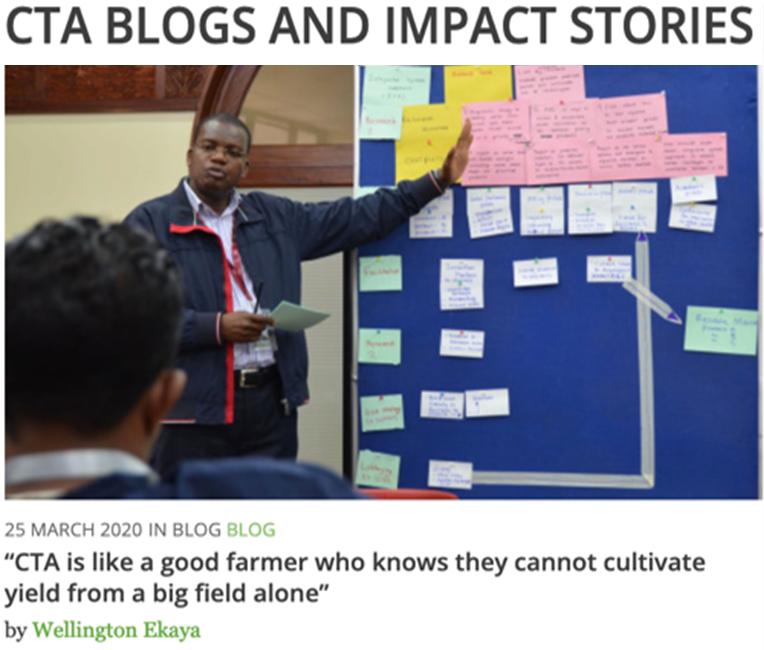 with a strong commitment to ensure that its rich portfolio of valuable intellectual assets remain global public goods and continue to be available publicly to those that can benefit from them. As part of the process, the Centre's management instituted a process to take stock of its intellectual legacy assets. I was featured among CTA's intellectual legacy assets. That was humbling and truly memorable. I owed it all to my two mentors - Judith Ann Francis and Agnes Mwang'ombe who were instrumental in shaping my early career.
TropenTag Best Poster Award: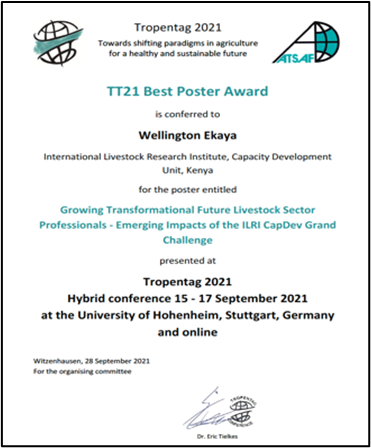 In 2021 I presented a poster at the Tropentag Conference, demonstrating the critical role of soft/social skills among researchers, if their research findings are to create change. My key inspiring message was that through the CapDev Grand Challenge process, ILRI was demonstrating success in growing the next generation of livestock researchers who are both systems thinkers and effective science communicators, able to contribute not just new research evidence, but also to development outcomes by deploying scientific evidence to influence decision-makers. The poster was published in the conference proceedings, and subsequently I produced an impact booklet.
Quotable quotes from world leaders whom I worked with before I joined ILRI, and who became instrumental in growing the #CapDevChallenge process – Prof. Monty P. Jones and Her Excellency Prof. Ameenah Gurib-Fakim. They always promptly responded to my phone messages and never hesitated to grace the CapDev Challenge award ceremonies! A big thank you!

ILRI feted at World Food Prize 2018: ILRI and the World Food Prize Foundation have been collaborating for over 20 years. On the capacity development front, ILRI has hosted the Borlaug-Ruan International Interns since 2000. The students spend 8 weeks implementing short projects that expose them to field and laboratory research experience, culture and broader developing country experience. In 2018 ILRI received a special appreciation plaque from Ambassador Kenneth Quinn, President of the World Food Prize Foundation at the time. I travelled to Des Moines, Iowa to receive the plaque on behalf of ILRI. I had the chance to attend the 2018 World Food Prize Award ceremony followed by VIP dinner at the Iowa State Capitol.I was admitted to the World Food Prize Global Youth Institute roll of mentors. Never in my life had I ever interacted with so many global leaders including former presidents! That was awesome. Ever since, I always look forward to my next travel to Des Moines.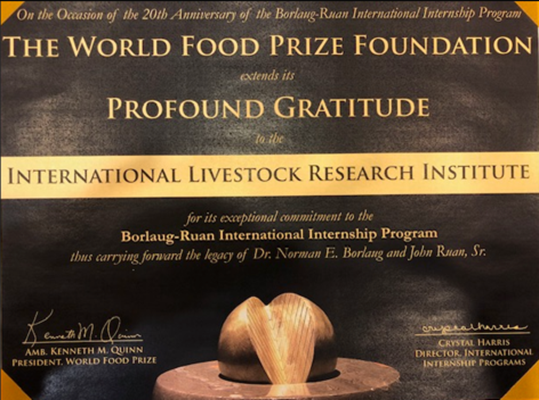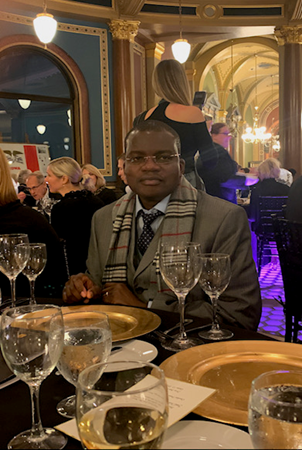 All these and many more have been possible because I worked with a great dedicated team, passionate and engaging colleagues, committed partners, inspiring students, fellows and interns, and very importantly ILRI management believed in me. I have had great mentors in my life too. Thank you ALL!! I hope we can remain connected and engaged!
You can reach me via email (w.ekaya@icloud.com), follow me on twitter (@EkayaEkaya) or look for me on LinkedIn.