Getting farmers on the phone to protect livestock and livelihoods during COVID-19 - and beyond
Continuous collaboration between farmers and scientists is the pinnacle of successful agricultural research for development. But what do you do when a global pandemic gets in the way of field visits and in-person exchanges? You get farmers on the phone.
Since 2016, scientists from the International Livestock Research Institute (ILRI) have been working with smallholders in Kenya and other East African countries to boost the health and hardiness of their dairy cattle. Field staffers have served as go-betweens, passing information on problems and solutions between farmers and scientists.
But now, with the arrival of the coronavirus disease 2019 (COVID-19) pandemic, scientists have fast-tracked a quicker, more direct and more scalable way to communicate with farmers, which does not depend on in-person meetings. Through text messages and phone calls, veterinarians and livestock experts are able to continue providing advice that can help safeguard farmers' livestock and livelihoods during a trying time.
'We wanted the farmers to realize that we still care about them', said Okeyo Mwai, principal scientist and head of the African Dairy Genetic Gains (ADGG) project, which is leading these efforts. 'Farmers' questions vary a lot – from diseases and conditions of their animals to anxiety around the current pandemic. For example, farmers are hearing inaccurate information about how their animals and pets can transmit this disease.'
Focusing on answering questions related to livestock health, nutrition and breeding, Mwai and his collaborators have since the beginning of the pandemic fielded calls and texts from farmers in Kenya.
Text messages and phone calls
Practically, this work is made possible through a long-standing partnership between ILRI, Kenyan institutions and private sector companies. The Kenya County Veterinary Directorates provide volunteer veterinarians to help answer farmers' questions, while a technology transfer platform called iCow facilitates exchanges with farmers and telecommunication companies such as Safaricom provide the technological infrastructure at favorable rates.
The idea to use telecommunications to connect with farmers has actually long been brewing, explained Mwai, and was not just spurred by the current COVID-19 crisis:
'We knew that the boots-on-the-ground approach was not sustainable – it's too expensive and inefficient to rely on third parties. But, if we can gain farmers' confidence that we are addressing their real issues now—as well as harvesting data to inform their future activity—then we can collect information directly from farmers, and that is scalable.'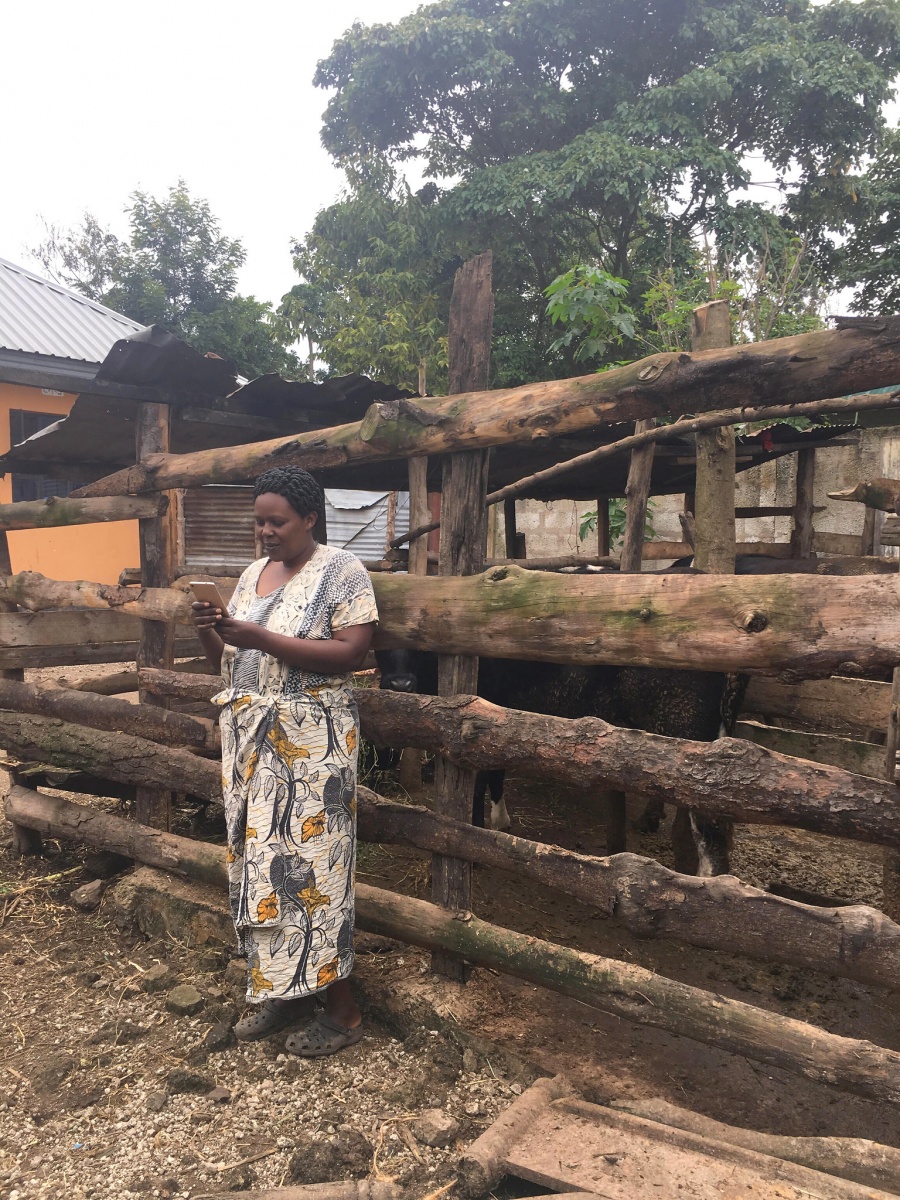 Violet Kimaro, a dairy farmer in Tanzania, checks her phone for updates from the African Dairy Genetics (ADGG) project. David Aronson/ILRI.
Tracking data on the performance of different livestock breeds is an important part of agricultural policies and projections, especially in a country like Kenya where the dairy sector provides livelihoods to hundreds of thousands of farmers and traders, and has contributed enormously to the health and well-being of children country-wide.
But, because the livestock sector in most African countries is made up of many dispersed smallholders with few animals, such data collection has always been a major challenge. That's why Mwai and colleagues are pursuing the use of information and communications technologies such as mobile phones, tablets and other types of data loggers.
Valuable source of information
Having telecommunications systems in place allows the project scientists to stay in touch with farmers with whom they built up relationships during the past five years, and to connect with new clients. What's more, the link with farmers has already proved to be an extremely valuable source of information for scientists, development partners and public offices.
First, the data collected provide starting points for new science on breeds and feeds, with scientists being able to interrogate, analyze and compare tangible data originating from a real-life context. The collected data could also help the government, sub-governments and development institutions monitor the effect of their interventions and investments, and could make national agricultural systems more effective.
'Imagine a national veterinary service  – which would otherwise wait until a disease escalates – with this type of information it would know upfront where the disease is, and it can therefore predict how it will develop, ring-fence around farmers and effectively control the disease', suggested Mwai.
Farmers as research collaborators
The new platform is set up to efficiently support farmers to solve their challenges right now, but also with the ultimate objective of supporting effective, evidence-based national livestock breeding schemes in the future, said Steve Kemp, who is the program leader for Livestock Genetics at ILRI.
'For us, the starting question was always, how can we improve the genetic base for dairy cattle in East Africa, which currently is very poor', explained Kemp. 'And the reason it's very poor is that there's no flow of information – we don't have enough information about what's a good cow or what's a bad cow, and therefore we can't offer advice.'
But this will all change, now that thousands of farmers have effectively come onboard as real-time – but remote – research collaborators. Kemp points out that the first thing farmers are asked when joining the platform is whether they consent to sharing their information. 'They almost always say yes', he specified.
'They are the ones providing the insights we need to be able to eventually dramatically improve the performance of East African dairy systems', said Kemp.
Based on the ongoing experiences in Kenya, the project plans to adapt the information-sharing platform for rollout in Ethiopia and Tanzania.
##
The African Dairy Genetic Gains project is led by the International Livestock Research Institute (ILRI), and it is supported by the Bill and Melinda Gates Foundation and by other contributors to the CGIAR Trust Fund.