In December 2020, 72-year-old Rosa Mwende (not her real name) who lives in Machakos County in southeastern Kenya was heading home after closing her furniture shop at the end of a slow business day. Thoughts of how her business would survive the COVID-19 pandemic weighed heavily on her as she walked along the path she has used for years to go home. Suddenly, out of nowhere, a neighbour's dog rushed towards her knocking her to the ground and sinking its teeth into her ankle. Her shouts for help attracted her neighbours who came quickly but the dog had disappeared into the bushes.
Dog bites are a serious public health problem in Kenya owing to the associated risk of rabies – a contagious and deadly viral disease that spread to people from the saliva of infected animals through bites or scratches. Rabies claims the lives of an estimated 2,000 people in Kenya annually. Machakos County is among the top five counties with the highest reported cases of dog bites on humans in the country and has a high incidence of rabies.
Mwende was misadvised by the dog owner to apply garlic on the wound and not to go to the hospital. After two days, the pain persisted, and she decided to seek help at the local hospital in Kyangala-Kalama Ward, Machakos County. Unfortunately, the hospital did not have the required medicine and she was referred to Machakos Level 5 Hospital a distance of over 20 kilometres away from her home. At the hospital, she was asked if the dog owner had a rabies vaccination certificate for the dog, to which she replied 'no' and was immediately put on rabies post-exposure treatment.
If not treated before symptoms appear, rabies is often fatal. It affects the nervous system and leads to disease in the brain and eventually death. A dog bite wound should be washed thoroughly with soap and water to reduce the rabies virus if present. The post-exposure treatment consists of five shots of the human rabies immuneglobulin vaccine, which is classified by the World Health Organization as an essential drug in a country's health system. The first shot is a dose that gives immediate antibodies that provide short-term protection against the virus that causes rabies. After this, four rabies vaccine shots are given on days three, seven and 14 after the first shot.
Mwende's treatment cost USD85 inclusive of transport and other expenses, which placed a huge financial burden because her monthly income is only USD,150. But she is glad her life was saved and no longer uses the same path as she is still fearful of the dog.
Promoting vaccination of dogs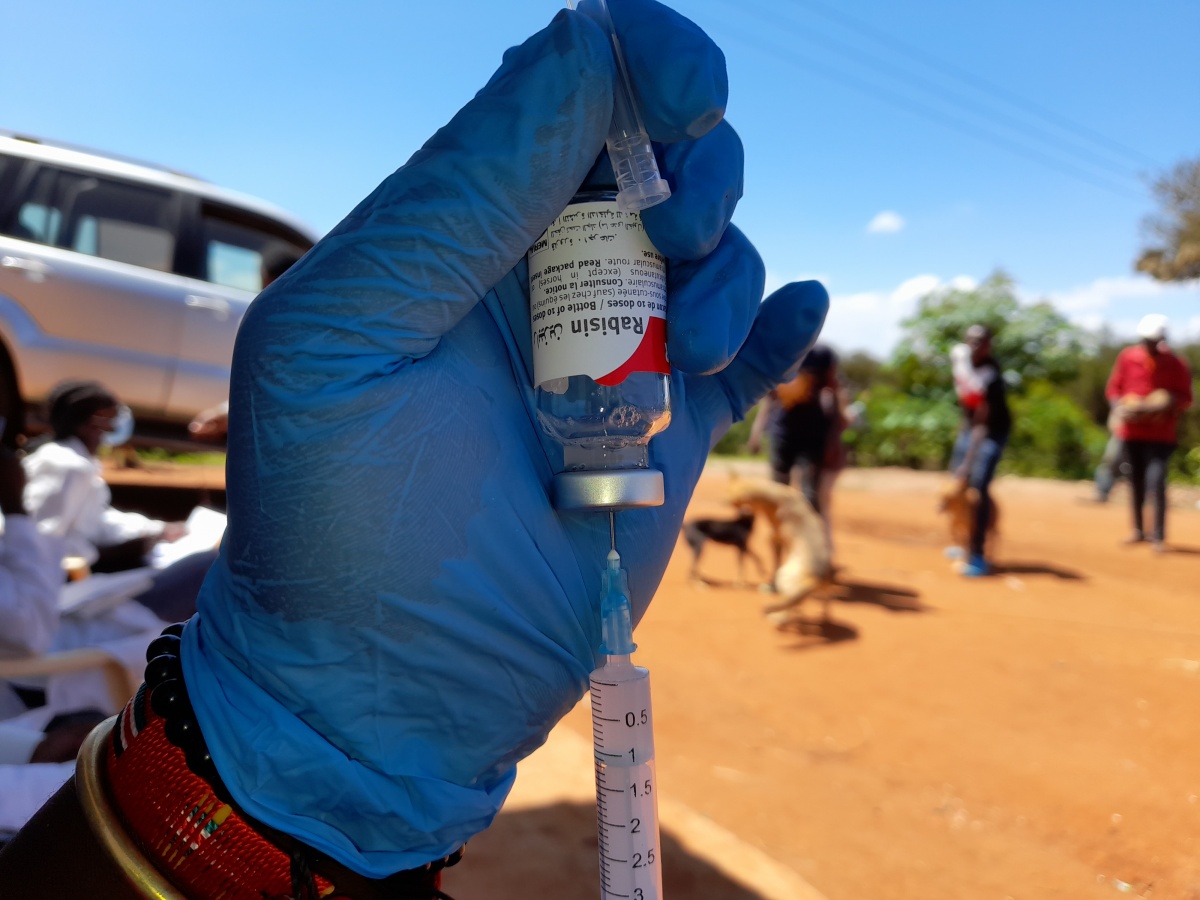 Mass dog vaccination is a proven strategy in preventing rabies in humans. It is a less costly venture compared to treating sick humans. Vaccinating a dog cost about USD2.
The dog that bit Mwende has now been vaccinated, along with over 5,000 others as part of a vaccination campaign conducted by the International Livestock Research Institute (ILRI)-led One Health Research Education and Outreach Centre in Africa (OHRECA) in partnership with the Machakos County government, the Zoonotic Disease Unit (ZDU) and Vétérinaires Sans Frontières-Germany (VSF-G). Two campaigns held 7-24 December 2020 and 11-15 January 2021, vaccinated a total of 5,588 animals. Other animals vaccinated included 240 cats and 80 donkeys. The veterinary experts also treated animal wounds and dewormed the animals. The work was part of an effort to help eliminate rabies in Machakos County by 2030 and the campaign is now being scaled up to reach almost 200,000 dogs in the county annually.
In 2014, Kenya launched a national strategy for controlling and eliminating rabies by 2030 in line with the 'Zero by 30' global strategic plan to end human deaths from dog-mediated rabies. Kenya's goal is to vaccinate at least 70% of the dog population each year for at least three years in order to eliminate the disease. Machakos County was one of six counties to pilot the strategy. However, the county has been lagging behind in the campaign.
'To eliminate rabies in Machakos County, over 70% of the dogs in the county must be vaccinated, over 181,000 dogs a year,' said David Waweru, director of veterinary services in Machakos County. He added that 'shortage of resources and huge gaps between vaccination efforts has slowed down the campaign.' He noted that the annual vaccination in Machakos covers a small area and is usually spot vaccination, which is less effective. He praised the recent vaccination exercise as a step in the right direction in the elimination of rabies in the county, but noted the need to 'focus on rabies control and not just addressing dog bites.'
The institutionalization of One Health and the establishment, in 2012, of the Zoonotic Disease Unit (ZDU), a One Health coordinating office for Kenya, is promoting the use of multi-sectoral approaches in the national rabies elimination strategy. Waweru is optimistic that by utilizing a One Health approach, where professionals from human and animal health field work together with other experts, rabies can indeed be eliminated by 2030. 'By bringing together experts in veterinary and human medicine, the environment, schools and the media we can win this fight against rabies,' he said. Waweru called upon other partners to join hands with Machakos County in the campaign.
The Machakos government is revamping its rabies awareness program and sensitising people on responsible dog ownership, and what to do in case of a dog bite. At the same time, the country government is carrying out dog population control measures (including spaying/neutering) and sensitizing school-going children about rabies prevention as they are at a higher risk of experiencing dog bites and rabies deaths.
Read the announcement of the ILRI-led OHRECA rabies vaccination campaign in Machakos County here
See more related posts on ILRI's work on rabies:
Click here for more information on dog ecology and demography information to support the planning of rabies control in Machakos County.
More information on comparison of vaccination strategies for the control of dog rabies in Machakos can be found here
Read a related publication on a 'Volunteer-based approach to dog vaccination campaigns to eliminate human rabies: Lessons from Laikipia County, Kenya.'