The power of mentorship in empowering next-generation leaders
Mentorship plays a fundamental role in the lives of young people, providing them with the connections, skills and opportunities necessary to succeed in their personal and professional lives. Throughout his career, Wellington Ekaya, head of Capacity Development at ILRI, has epitomized what it means to be a transformational mentor for young people.  
Ekaya first met Dickson Otieno, now a PhD student in Agricultural Leadership and Community Education at Virginia Tech, in 2017. At the time, Otieno was the Project Manager at the regional World Bank Center of Excellence in Sustainable Agriculture and Agribusiness Management (CESAAM), offering capacity building and support to PhD and master's students. Otieno found himself immediately drawn to Ekaya's unique leadership style, characterized by his astuteness, diligence, hard work and humility.
'Wellington does not look down on beginners such as grad students', explains Otieno. 'He sees their potential to succeed and be great'.
Ekaya quickly became a mentor to Otieno, supporting him in his academic and professional pursuits. In fact, Otieno attributes many of his professional achievements to Ekaya's mentorship. 'He was always helpful and responsive whenever I had questions about my work as a Project Manager', says Otieno.
Beyond supporting Otieno in his professional life, Ekaya also helped Otieno conceptualize his long-term goals and formulate a plan for achieving them. Indeed, it was Ekaya that encouraged Otieno to pursue a PhD and dream of greater academic and professional pursuits. This is emblematic of Ekaya's ability to see the potential in people that they often do not yet see in themselves—an ability that makes him such an impactful mentor.
In the future, Otieno hopes to continue working in the international development space, spurred on by Ekaya's encouragement to further develop his international outlook and linkages. Over the course of their relationship, Ekaya has helped Otieno develop diverse connections in government, academia and international organizations which Otieno is already leveraging to create impact.
For instance, in 2020, Otieno built on the connections and insights he gathered from Ekaya to run a summer camp at Egerton University, bringing together over 200 students from various backgrounds to engage in peer-to-peer research sharing, receive feedback from their peers and foster meaningful connections.
What is especially exciting to Otieno is the fact that mentorship—and the web of connections it creates—is not a one-time event. 'Mentorship is there to stay', he explains. Moving forward, Otieno hopes to be the kind of mentor to others that Ekaya has been to him. 'I have learned from Wellington to not look down on beginners and to offer myself to others to help them rise', says Otieno.
Otieno has an important message for young people that lack the connections and experiences of their older peers: 'Don't be shy, don't be scared… reach out to people that can work with you and help you through the challenges you will inevitably face'.
Many others share Otieno's gratitude for Ekaya's mentorship. Moffatt Ngugi is the USAID team lead for the environment in Mozambique. Ngugi first met Ekaya in 1994 when he was a student in Ekaya's ecology course. 'He was a great teacher', remembers Ngugi, 'and that course actually helped set me on my current trajectory.' Ekaya inspired Ngugi to complete a master's degree and eventually a PhD in Agroecology at Colorado State University. Much like Otieno, Ngugi credits Ekaya with helping him realize his full potential.
Ekaya supported Ngugi outside of academics as well. 'He gave me mentoring and opened doors for internships and my professional growth', says Ngugi. Perhaps most importantly, Ngugi notes that 'Ekaya is a good person and a role model for how to be a good scientist and policy influencer'.
As he reflected on the importance of Ekaya's mentorship, Ngugi echoed Sir Isaac Newton's well-known quote about 'standing on the shoulders of giants'. 'Sometimes we go around in life wanting to build things from scratch and do it on our own, but real progress comes from working together—that is the real theme of mentorship', says Ngugi. Ultimately, it is only through the web of connections mentorship cultivates that we can effectively address the world's complex, integrated problems.
Blessing Odogwu, who currently serves as a lecturer and researcher in the Department of Plant Science and Biotechnology at the University of Port Harcourt in Nigeria, is another person whose life was transformed by Ekaya's mentorship. Odogwu first met Ekaya in 2013 when he was serving as the training and quality assurance manager at the Regional Universities Forum for Capacity Building (RUFORUM) in Uganda and later at the International Livestock Research Institute in Nairobi.
Like so many other young professionals, Odogwu eventually found herself at a career crossroads, unsure of what to do next. She went to Ekaya for support and guidance because, as she says, 'he really listens when you talk to him and gives candid advice'. After discussing her options with him, Odogwu recalls being inspired to give back to her community, country and continent. 'He made me see that Africa needs my contribution', said Odogwu.
The conversations Odogwu had with Ekaya early in her career continue to motivate her work today as she researches methods for supporting African development. 'Even if I start small, the impact will go a long way to help my community, my country, and eventually the continent to become the Africa we want', says Odogwu.
After experiencing the power of mentorship first-hand, Odogwu says 'young people should never underestimate the importance of mentorship'. There will always be difficult periods during one's journey, but a mentor like Ekaya can help young people through those struggles to achieve their career goals.
A more recent mentee of Ekaya is Eithne Leahy, who currently works as a veterinary technician and researcher in Ireland. In 2019, Leahy was finishing her MSc, and because her dissertation was linked with work being done at ILRI, she got involved in the CapDev Grand Challenge research pitching contest, where she took home first prize in the MSc category.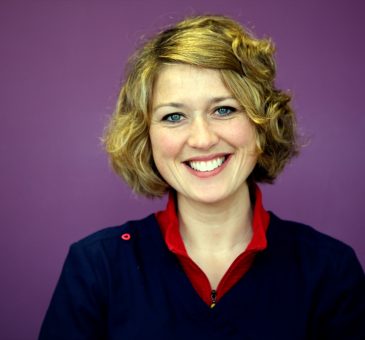 Eithne Leahy, a veterinary technician and researcher in Ireland and a recent mentee of Ekaya.
Leahy officially met Ekaya during a training event he held for ILRI researchers in the aftermath of the contest. Given the interdisciplinary nature of Leahy's work, she was immediately drawn to Ekaya's unique ability to bring together diverse groups of people. 'He's aware of how interconnected research is, and he's very good at highlighting how your research is connected to other things', says Leahy.
Perhaps the most important trait that makes Ekaya a good mentor is his dedication to his mentees. As Leahy says, 'he put a lot of time and work into supporting me and making himself available. He's always there if you need someone to reach out to.'  
In the years since Leahy first met Ekaya, the soft skills she developed through the CapDev Grand Challenge have propelled her along her career path, making her a better veterinarian and researcher. Ekaya also helped Leahy realize that 'we can't exist in silos' because research is inherently interdisciplinary and interconnected.
From this experience, Leahy has realized the importance of learning from those who come before you. 'Young people have ample access to information—but that doesn't make you knowledgeable', explains Leahy. 'You gain inspiration and knowledge from learning from other people's life experiences, and that is why mentorship is important.'
Other recent mentees of Ekaya are Maurice Karani and Wilkister Nakami Nabulindo, a married couple. Karani is currently a second-year PhD student at the University of Liverpool and a graduate fellow at ILRI while Nabulindo serves as a lecturer at the Faculty of Veterinary Medicine at the University of Nairobi. The two first met Ekaya during their graduate work with ILRI, Karani as a MSc student and Nabulindo as a PhD graduate fellow.
Karani first realized that Ekaya would be a great mentor because 'he is very relatable and good at simplifying complex ideas', says Karani. Similarly, Nabulindo was drawn to Ekaya's leadership skills— 'he is a people's person and well versed with soft skills'.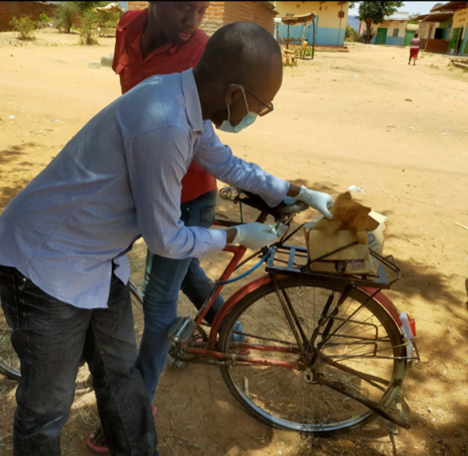 Maurice Karani leading a mass dog vaccination against rabies.
Like many of the mentees that came before them, Karani and Nabulindo both had their career paths significantly influenced by Ekaya. 'He helped me clarify my next professional step after completing my master's degree, ultimately solidifying my decision to pursue a PhD', says Karani.
For Nabulindo, Ekaya helped build her science communication skills through CapDev training and the CapDev Grand Challenge—skills that continue to help her today. 'As a 2020 CapDev Grand Challenge winner, I learned soft skills that I am still putting to use in my day-to-day career progression', says Nabulindo.
Their relationship with Ekaya has helped the pair understand the importance of mentorship in the lives of young people. 'Mentorship is a powerful tool that can provide guidance, support, and inspiration to young people as they navigate their personal and professional lives', says Karani.
'You need mentors!', adds Nabulindo. Ultimately, both agreed that Wellington was essential to their career development, both as students and early career professionals.
Ekaya's impact extends beyond the African continent. Tushar Kumar Dey, an ILRI PhD fellow from India, is another mentee of Ekaya. Over the past few years, Ekaya has made a significant impact on Tushar's academic growth and development.
'Dr Ekaya's approach to mentorship is unique in that he takes the time to understand his mentees' strengths and weaknesses and then tailors his guidance to help them maximize their potential', says Dey. Through his unique approach, Ekaya helped Dey find his research passion. 'He has taught me how to identify the most critical aspects of my research and then to focus on those areas to increase the impact of my work', says Dey. He credits Ekaya with helping him refine his research approach, and ultimately, gain more recognition and appreciation in his field.
Like many of his other mentees, Ekaya also supported Dey in building his soft skills, presentation abilities and critical thinking through the CapDev Grand Challenge. In 2022, Dey was awarded special recognition for his performance in the CapDev Grand Challenge. 'Through Wellington's guidance, I have learned how to craft a compelling pitch that highlights the critical aspects of my research in a concise and engaging way', says Dey. 'This skill has been invaluable, enabling me to communicate my ideas more effectively and get my research in front of more people'.
Reflecting on his time at ILRI, Dey notes that Ekaya has played a central role in helping him accomplish his goals. 'His guidance and support have given me the confidence to take on new challenges and to succeed in my endeavors. I am grateful for his mentorship and would highly recommend him to anyone seeking to improve their soft skills, presentation skills, critical thinking abilities and research impact.'
The connections Ekaya has developed with his mentees—and the impact he has had on their lives—underscores how key mentorship is to the personal and professional growth of young people. Today, the importance of mentorship continues to guide Ekaya's work in the ILRI CapDev Grand Challenge which is transforming young researchers into the leaders of tomorrow. In the future, Dickson Otieno hopes that others will come to see the power of mentorship as well— 'Mentorship is for the benefit of humanity as well as the advancement of research, knowledge generation and leadership'.
Over the course of the last 20 years, more than 500 early career professionals in diverse disciplines and sectors have had their lives positively impacted by Ekaya's mentorship. ILRI has been extraordinarily fortunate to have him leading its Capacity Development portfolio over the past nine years. We are sure he will continue to impact the lives of young people through his mentorship as he moves forward in his career journey with the Mastercard Foundation.