Princeton in Africa Fellow story featuring Elliot Carleton
Imagine moving from the United States with an economics degree to an African country to host a podcast and write articles on livestock. Elliot Carleton, a former Princeton in Africa fellow, did this when he interned at ILRI's Communications and Knowledge Management unit in Nairobi. Funny enough, he enjoyed it so much that, after the end of his year-long fellowship, he is now serving another year as a communications consultant. His stay at ILRI motivated him to go to graduate school and become a scientist in renewable energy.
Elliot spends roughly 75% of his day writing blogs on rangeland management and other environment and livestock research issues, often featuring interviews with the scientists who authored the research papers. The remaining time is typically spent supporting ILRI's Boma podcast.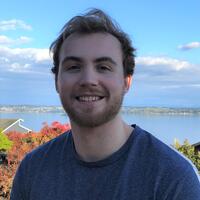 An unforgettable experience was the makeshift podcast studio he set up with another Princeton in Africa fellow, Brenda Coromina. Failing to find a suitable recording location, they draped the walls of a closet with blankets, set up mics on stacks of paper, and filled gaps in windows with pillows.
One of the most impactful moments of Elliot's fellowship was when he had the opportunity to come to Africa in March 2022 after seven months of virtual interaction due to the COVID-19 pandemic. He was excited to meet his teammates and the scientists in person, and the opportunity enriched his experience and work.
As part of his work at ILRI, Elliot has had the opportunity to interact with researchers worldwide. Particularly memorable was interviewing Lora Lannoti, professor at Washington University in St Louis and co-lead author of the UN Nutrition Report 2021. These interactions have broadened his scientific horizons and provided him with invaluable experience and a unique perspective on global issues.
"Communication is really important to science, and I think I'll be able to rely on the skills I've gained at ILRI for the rest of my education and career," Elliot says. "Apart from the interview skills I got from doing the podcast and writing blogs, my writing skills have greatly improved, and all these make me a better scientist."
Elliot's story is a testament to the opportunities at ILRI. His experiences showcase the unique, open, and collaborative working environment that the institute offers to enrich personal growth while contributing to the vision of improving people's livelihoods in the global south. As he considers future visits to Kenya, he hopes to extend his work with ILRI, continuing his dedication to global research impact.
Photo credit: ILRI/Apollo Habtamu
ILRI Capacity Development Newsletter, Issue 3, June 2023