Jane Njaramba seeks to unravel antibiotic resistance and mycotoxins in chicken farming
Meet Jane Njaramba, an ambitious young woman on a mission to unravel antibiotic resistance and mycotoxin occurrence in broiler chicken farming in Kenya. Jane's passion for this work springs from a desire to apply herself in providing sustainable solutions to One Health. 
As a teen, Njaramba had the opportunity to visit the International Livestock Research Institute (ILRI) and was impressed by the landscape and tranquil atmosphere. As she grew to understand the type of research taking place there, she became driven to seek opportunities at the institute.
Now, as a PhD graduate fellow, she is using molecular tools to tackle the global challenge of antimicrobial resistance (AMR) that threatens both animal and human health. 
'I felt it was ideal to use my love for science to solve problems facing the world,' she said. She is in the first year of her doctoral studies in veterinary science at Ghent University, Belgium after successfully applying for a Special Research Fund scholarship.
Watching Crime Scene Investigation television shows drew her to forensics, which she later studied at Kenyatta University. During her undergraduate program, she fell in love with molecular biology, which made her desire to pursue a master's degree in genetics. A telemarketer at the time, she could not afford that second degree, so she applied for various scholarships and got financing from the Gandhi Smarak Nidhi Fund to study at the University of Nairobi.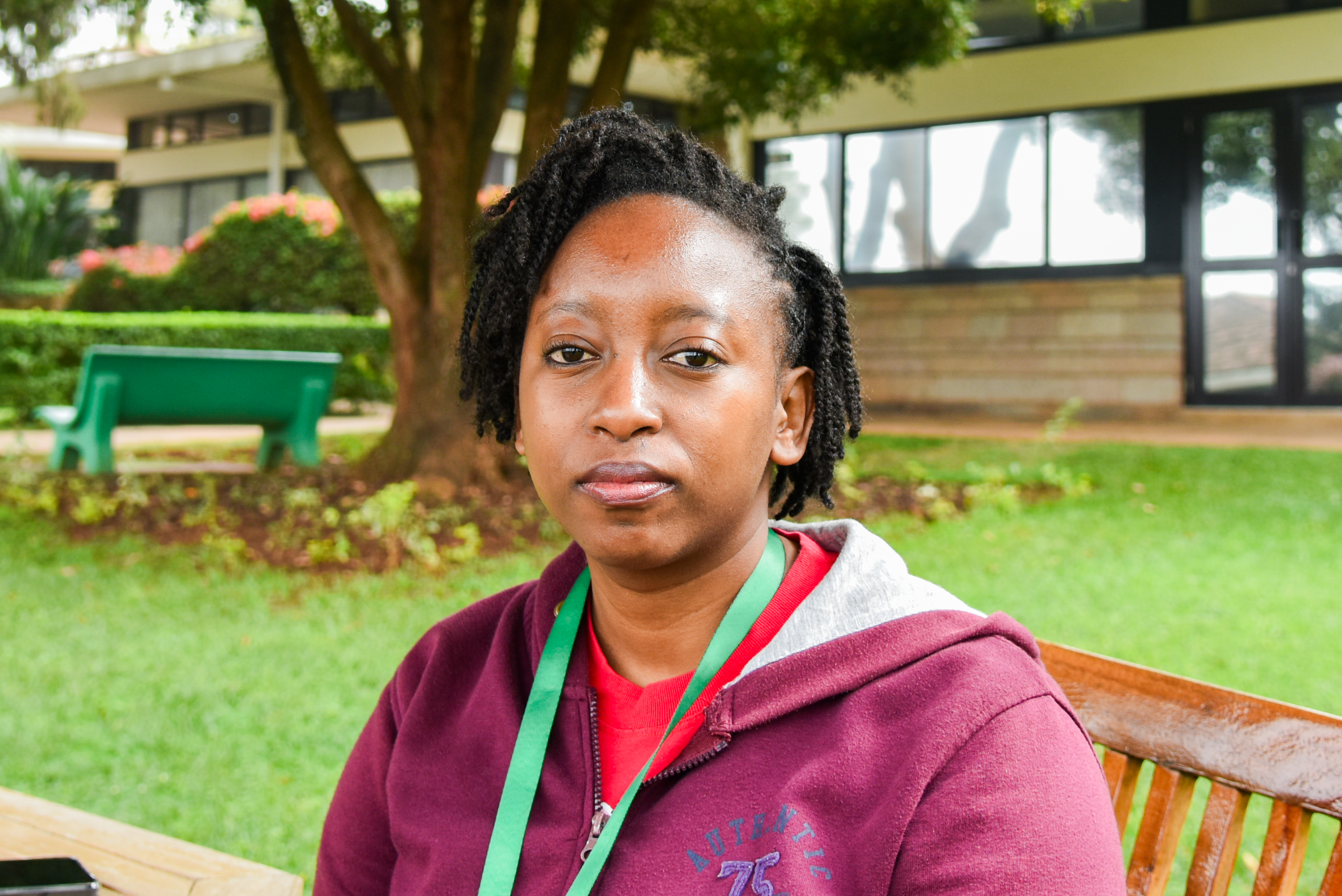 Njaramba's research is centred on understanding the prevalence of AMR in small-scale broiler farms in peri-urban counties surrounding Kajiado, Kiambu, Machakos and Nairobi. She is profiling the resistant genes present in faeces and water and examining the presence of antibiotic residues in feed and water. She is also investigating the levels of mycotoxin contamination in chicken feed which can negatively impact poultry health and eventually human health throughout the food chain.
To obtain the necessary data for the first part of her research, Njaramba, with support from some field enumerators, went door-to-door, working with local veterinary officers and village advisors. She immersed herself in the community, mapping farms, collecting feed samples and filling questionnaires.
The youthful scientist's favourite part of her work is the time spent interacting with farmers in the field. She acknowledges that while scientific papers highlight the issue of AMR, engaging with poultry keepers brings reality to the forefront. 
The need for a solution became more apparent when I witnessed first-hand how livelihoods, food security and overall well-being are impacted,' she noted.
'Farmers don't care about AMR; they care about getting a livelihood from their chicken. I believe that the One Health approach, which recognizes the interconnectedness of human, animal and environment health, could hold the key to better poultry production,' she added. 
Through her research, which is under the CGIAR Initiative on One Health, she seeks to shed light on the potential threats posed by AMR and mycotoxins in developing countries, using Kenya as an example.
At this stage of her PhD, she is at Ghent University where her days are filled with intensive laboratory work. She is using cutting-edge analytical tools to decipher the complexities of mycotoxin occurrence in chicken feed.
As part of the feedback mechanism from her project results, she intends to go back to the farmers and conduct workshops to inform them about the findings of the study and their implications. 
In addition to her thesis and peer-reviewed scientific publications, another expected output of her PhD research is a policy brief developed as part of engaging with stakeholders on the status of AMR, mycotoxins and the need for policy evaluation.
ILRI Capacity Development Newsletter, Issue 6, August 2023
Find capacity development opportunities such as scholarships, conferences, awards, funding, workshops, symposia, learning resources and more.