Gates Foundation CEO Mark Suzman visits transformative poultry research in Kenya
During a recent visit to Kenya, Mark Suzman, CEO of the Bill & Melinda Gates Foundation (BMGF), took a morning out of his packed schedule to head to the lakeside town of Naivasha, an hour's drive north of Nairobi, to visit the innovative poultry breeding research efforts led by the International Livestock Research Institute (ILRI) and implemented in partnership with the Kenya Agricultural and Livestock Research Organization (KALRO). 
The visit, which took place on 27 April, comprised key locations that showcase some of the achievements of the Tropical Poultry Genetic Solutions program – a collaborative endeavor that seeks to unlock the immense potential of the poultry sector in Asia and Africa. From pioneering breeding programs to conservation initiatives and strategic partnerships, the program aims to empower smallholder farmers, improve nutrition and promote gender equality. Accompanying Suzman on this visit were Tadelle Dessie, lead scientist of TPGS, and Ochieng Ouko, lead poultry breeder from KALRO. 
The first stop was KALRO's poultry breeding research station, where Dessie and Ouko spoke of their focus to identify locally adapted and farmer-preferred chicken breeds. They highlighted the significance of conserving indigenous chickens to preserve their invaluable adaptive traits for future generations. Notably, the program places a significant emphasis on breeding dual-purpose chickens—breeds specifically developed for both meat and egg production, recognized for their remarkable productivity and adaptability, resulting in a 100 percent increase in productivity.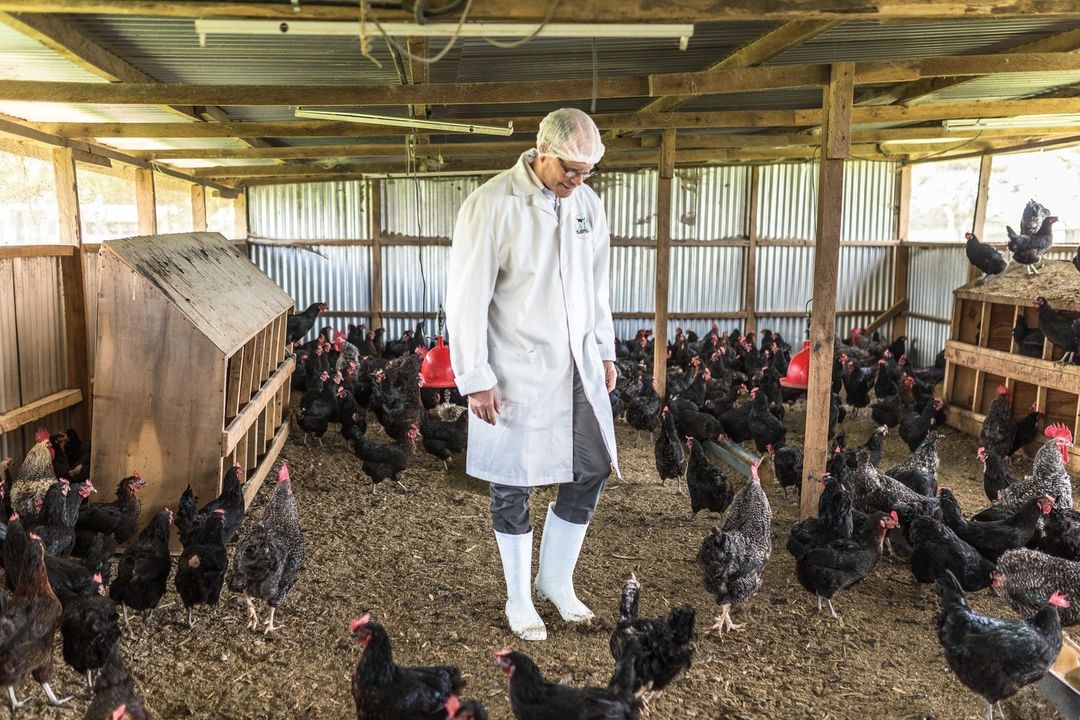 Reducing chick mortality from fifty to five percent 
As Suzman observed the operations, he was struck by the vast potential of the poultry initiative. He recognized the role of chickens in improving livelihoods, enhancing nutrition and creating new opportunities for women. Suzman also expressed admiration for the accomplishments made thus far. 
'In your chicken work, you get to say that you've reduced mortality rates from a staggering 50 percent to five percent,' he said, reflecting on the brooder farm model pioneered by TPGS. 
Also known as 'mother units', brooder farms are in the business of raising day-old chicks till they are about two months old, providing them with critical health and nutrition services to ensure their survival and well-being. In resource-poor smallholder farms, mortality rates during this vulnerable stage can reach up to 50 percent. Farmers who acquire the one- or two-month-old chicks from these brooder farms have greater chances of raising healthy chickens. 
Poultry as a pathway for women's economic empowerment
One of the highlights of Suzman's visit was his meeting with Wangechi Theuri, an inspiring entrepreneur who runs her own brooder farm. Theuri's business began in her garage several years ago with just 100 birds, but she has since expanded her operation to house a flock of 1,000 chickens in a spacious two-story chicken coop next to her home. During their conversation, Theuri shared her journey with Suzman, expressing her passion for poultry and the business she has built.
'I am passionate about chickens and my business. I've learned that volume makes a difference in the profits I make,' she said. 'The dual-purpose chickens I keep are ideal because the unsold chicks have a chance to grow, and then I can sell the eggs they lay at the market.'
Their discussion then shifted to the significance of poultry as a business accessible to women. Suzman acknowledged the Bill & Melinda Gates Foundation's commitment to supporting poultry initiatives, recognizing the empowering opportunities it offers women to establish and manage their own businesses. Theuri added her perspective, stating, 'There aren't many men in this business. Men go for the bigger animals and they don't want to stay at home.'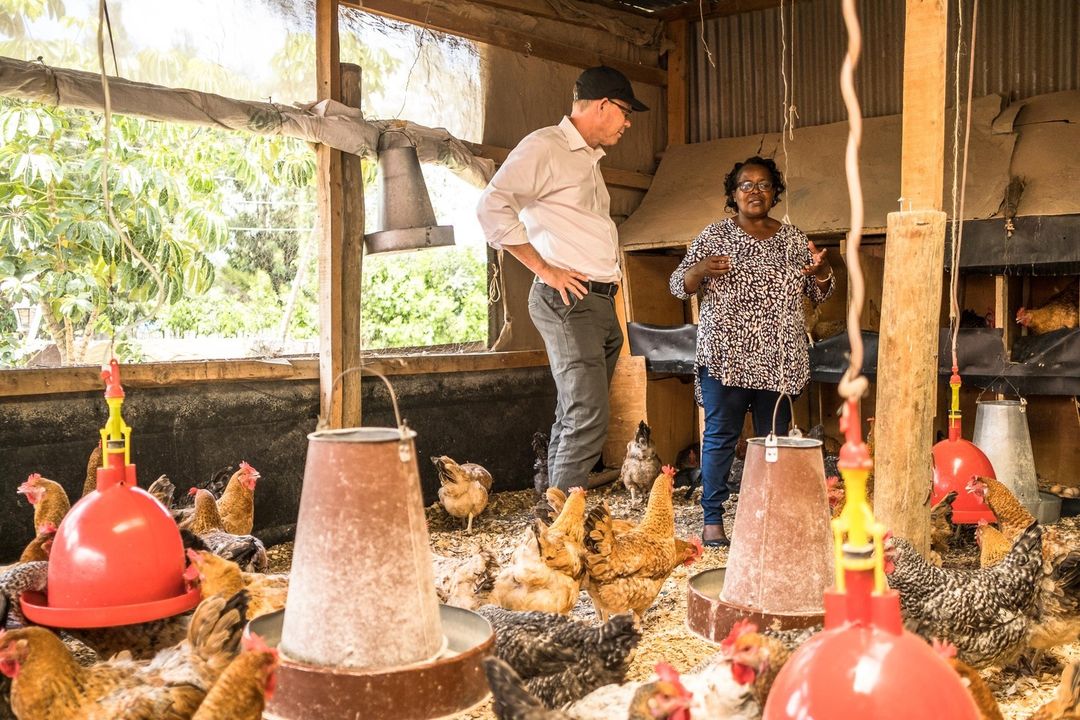 As Suzman's tour continued, he made a final stop at Martha Ndirangu's farm. While Ndirangu keeps goats, rabbits, a cow and cultivates a vegetable plot, her true pride and joy lies in her chickens. She started her poultry farm four years ago and quickly discovered her talent for raising healthy and highly sought-after chickens.
'People come to me to buy chickens or eggs because they know mine are the best, and there have been times when I've had to turn customers away due to overwhelming demand,' Ndirangu shared. 
However, the high cost of feed has presented challenges for Ndirangu, resulting in a reduction in her flock. With her current flock of 25 chickens, she primarily uses the eggs for her family's consumption, occasionally selling a chicken to cover school fees or other essential expenses.
During his interactions with poultry farmers, Suzman became increasingly interested in the potential of alternative feed sources to alleviate the burden of rising feed costs. Dessie highlighted the various innovations being explored by the Tropical Poultry Genetic Solutions program, including the potential use of the black soldier fly as an alternative feed source. He also emphasized the value of food scraps as a valuable chicken feed source in less intensive backyard chicken setups, underscoring the flexibility that owning chickens offers smallholder farmers.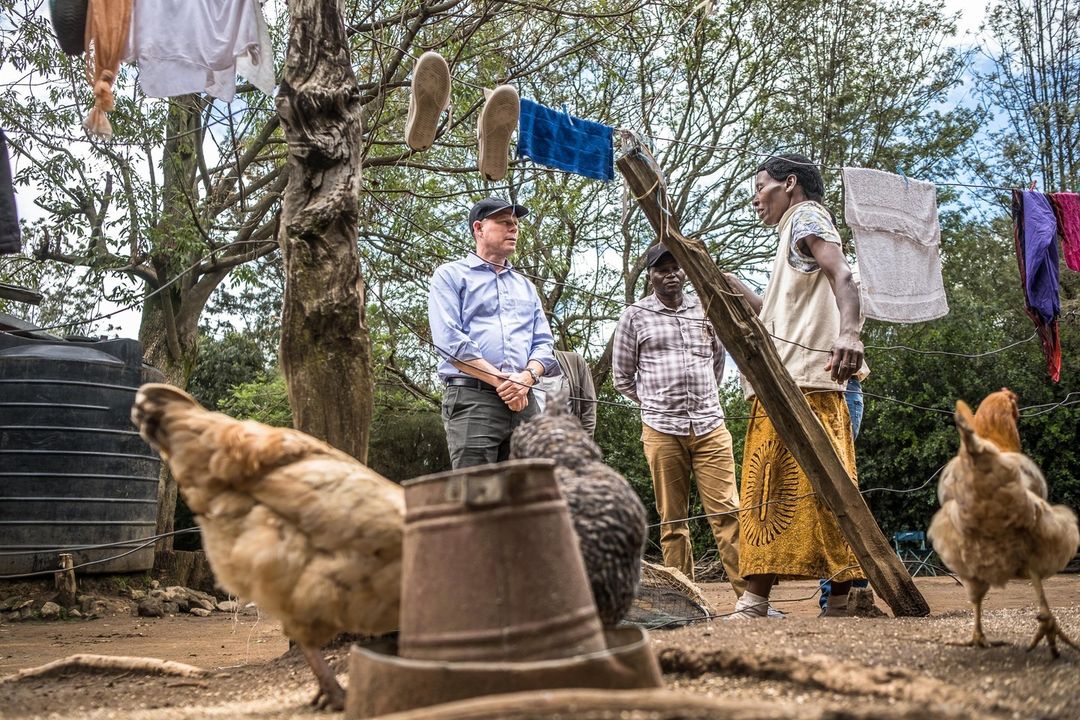 Suzman's appreciation and future advocacy
Throughout the visit, Suzman was an attentive listener, keen to learn from the experiences of those he met. When parting ways with Ndirangu, he expressed his gratitude for her time and for sharing her story with him. 'We learn from you; that's why we want to know people like you,' he said. 'And we want to help people like you.'
To Suzman, this visit was the highlight of his week-long trip to Kenya, saying he is convinced more than ever that livestock, particularly poultry, hold the key to better nutrition, a pathway out of poverty and, most importantly, gender equality.
'I will be talking about livestock for a long time to come,' he concluded.
--
The Tropical Poultry Genetic Solutions program is being implemented under the CGIAR research initiative Sustainable Animal Productivity. This Initiative aims to contribute to transforming livestock sectors in target countries to make them more productive, resilient, equitable and sustainable.