Using digital technology to integrate gender into genetics in small ruminant and dairy systems
Julie Ojango, senior scientist in the Livestock genetics program at the International Livestock Research Institute (ILRI), specifically addressing sustainable utilisation and management of Animal Genetic Resources, leads projects in small ruminant and cattle breeding that use digital tools that enable better integration of gender into genetics research in the global south. Julie believes that livestock improvement programs must improve the livelihoods of smallholder farmers:  
"So, if I'm not impacting the life of the livestock keeper in the end, forget my livestock improvement."  
Incorporating smallholder farmers into client-responsive breeding programs has shown improved adoption of technical innovations. However, women, making up two-thirds of livestock farmers, have been historically left out of breeding project design. When selecting a breeding animal, men and women have different trait preferences, so breeding programs must be client-responsive and gender-responsive.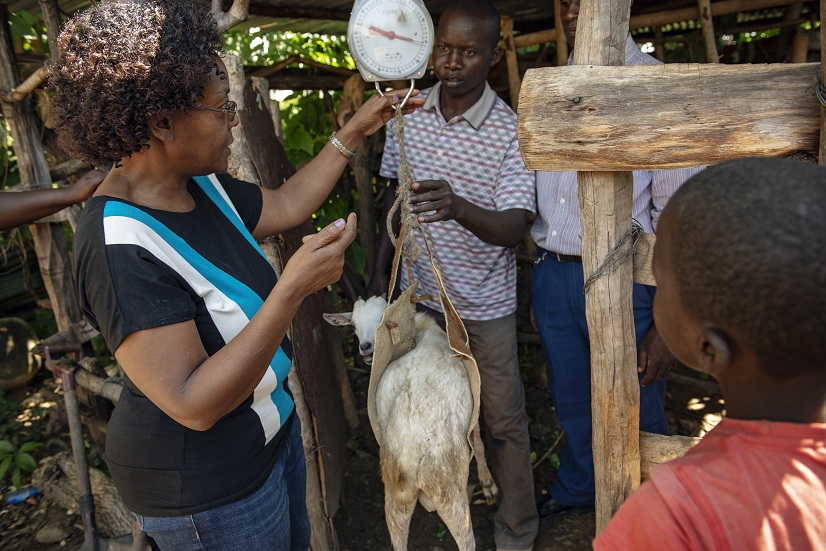 Julie witnessed these gender inequalities within livestock breeding projects while hosting group discussions on cattle breeding in Nicaragua. As her chapter in The Silent Cattle Breeders in Central Nicaragua states, Julie shared:
"When I called a meeting, the men all came. So, we asked, 'Where are the women?' The men said, 'They're at home taking care of the livestock.' Then, we asked a farmer, 'Who will prepare the meals?' He also said, 'It's the women.' Many women had come to work in the kitchen because they realised we were teaching. I went back to the kitchen one day during lunchtime while the men were eating and as I struck up a conversation with the women who were cooking for us, one of the women started asking me questions, 'When the animal behaves this way, how should I treat it?' That's when we decided to have gendered focus group discussions."
Julie has integrated gender into her small ruminant and cattle breeding projects by ensuring women's access to digital tools and involvement in the design process by hosting gendered focus group discussions.
Small Ruminant Systems
Before implementing projects, Julie hosts gendered focus group discussions to determine the gendered differences in small ruminant breeding in climatically challenged environments and enable equitable uptake of digital tools. Ensuring that sheep and goat improvement practices are compatible with the preferences of men and women improve technology adoption, making communities more resilient to climate change and empowering women.
At these meetings, researchers ask men and women questions like how their households divide roles, skills, and decision-making when breeding small ruminants. Based on the discussions, scientists can use the information to tweak digital tools or a project design to enhance data collection that informs breeding that is more accessible and applicable to both men and women.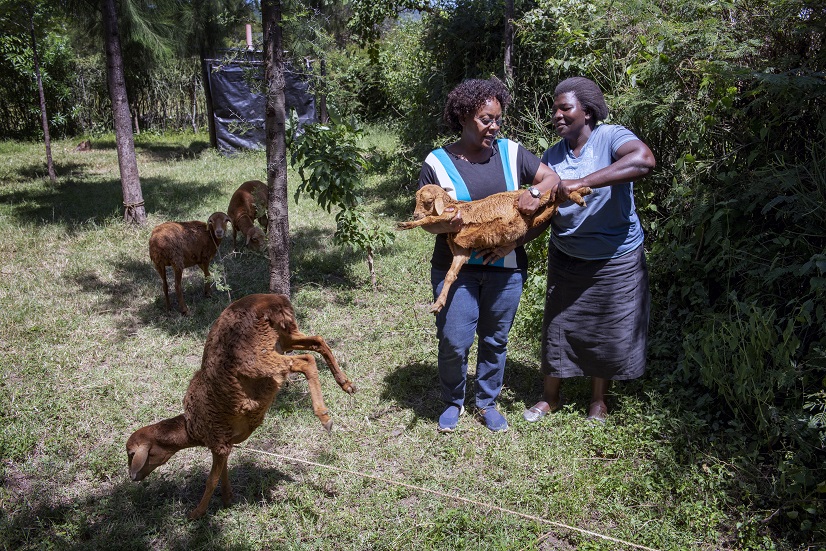 Dairy Systems
For cattle breeding, Julie has been integrating gender into the ongoing Africa Dairy Genetic Gains (ADGG) project by ensuring that women can use ADGG mobile tools and benefit from them. ICT-based platforms and mobile phones for sharing information can reduce the "information gap" between men and women. Women who own or manage their dairy enterprises can access the same guidance on the best management practices for their dairy cattle as men. Based on the information men and women input into the mobile tools, both men and women receive feedback that helps them more objectively determine prices for selling or buying dairy animals.
Digital tools can also increase women's access to animal health services like vaccinations and sources of drugs at optimal prices. Mobile tools can also help a woman identify the best bull to use for artificial insemination and thus improve the productivity of the next generation of cattle in her herd.
Lastly, ADGG increases women's agency and voice. Women owning dairy animals can use mobile phone apps to input and contribute their data to national platforms that discuss investments in the dairy sector. Women can also use the evidence collected from these digital tools to show the potential production of their animals and access credit and financial services to invest in their enterprise.
Photo by CGIAR / C. de Bode