'Futures thinking' workshop envisions pathways for a sustainable and climate-smart livestock sector in Kenya
The Programme for Climate-Smart Livestock (PCSL) hosted a Futures Thinking workshop for livestock sector stakeholders in Kenya. The virtual workshop brought together 35 participants representing stakeholders in the country from the government, private sector, non-governmental organizations (NGOs), and research institutes. The aim was to engage in a 'Futures Thinking' exercise that would generate different visions of a more sustainable livestock sector in Kenya and possible pathways for achieving such visions.
Futures Thinking refers to the practice of thinking about the future in a structured way and the methods and approaches that are used to do so. Prospective thinking about the livestock sector promotes far-sightedness on the policy and practice dynamics and possible outcomes that shape the future of the sector. This is called anticipatory governance: using the future to make better decisions in the present. It assists in insightful ways to handle potential challenges and maximize opportunities. 
The workshop participants used the 'Three Horizons' framework as a heuristic device to help stimulate their thinking about the future. First the participants we asked to envision the Third Horizon or the far future that they would like to see. Then the facilitator laid out the First Horizon- the current worldviews, patterns, assumptions, structures, or ways that the world operates. Finally, participants outlined the Second Horizon – the transition space where specific steps are normally mapped out, interventions between the First and the Third Horizon. Often these interventions highlight challenges we need to overcome to transition to the Third Horizon.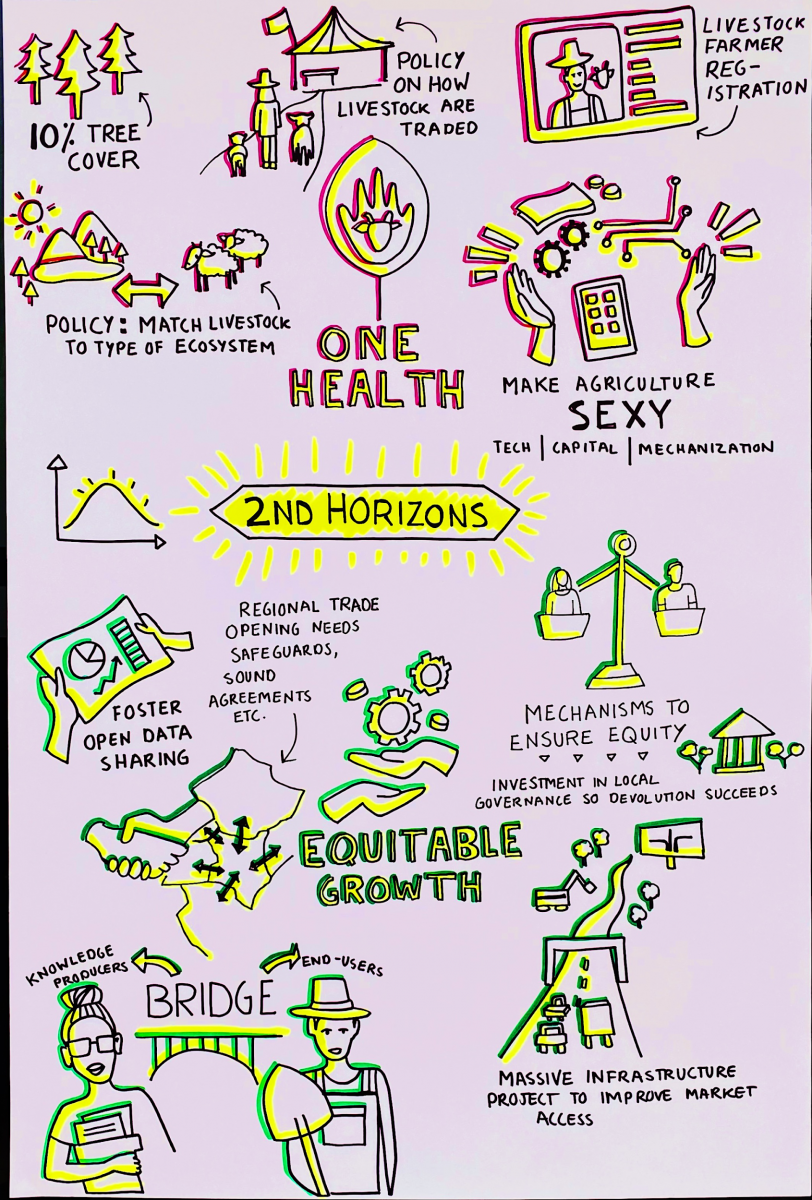 2050 visions of a sustainable livestock system  for participants capture and visualised by facilitators during the workshop (credit: Lulu Kitololo)
To illustrate the approach and how people view the future, participants took part in short tests, group discussions, and projections. From the discussions, participants highlighted the importance of including youth in agriculture, the need for the wider political influence of different livestock stakeholders, especially pastoralists; data and fact-based policy development, creating an enabling environment for private sector investments, and ease of access to information, technologies, and resources. 
Participants particularly noted the social-economic inequalities and climatic changes that expose the frangibility of the pastoral system. 
Overall, despite the constraints brought on by the global pandemic, the workshop was a success. Participants left inspired to do something tangible to help enable their future visions. This ranged from getting more involved in lobbying and advocacy for policy improvement and implementation to supporting technology development and being a role model for others. 
See comprehensive workshop report here
Read more about the PCSL project here
Feedback board from the workshop