ILRI fosters collaboration with CGIAR partners in Nigeria for livestock systems transformation
Appolinaire Djikeng, the director general of the International Livestock Research Institute (ILRI), visited the International Institute of Tropical Agriculture (IITA) in Ibadan on 14 August to bolster efforts towards better coordinated CGIAR activities in Africa.
Hosted by IITA's director general, Simeon Ehui, the visit brought together directors general from other Africa-based centres and beyond including Africa Rice, International Center for Agricultural Research in the Dry Areas (ICARDA) Lebanon, and the Center for International Forestry Research (ICRAF-CIFOR).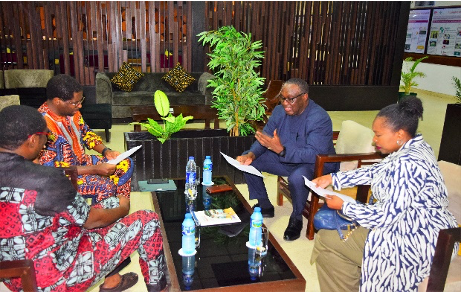 The meeting discussed ways of better synergizing CGIAR research and programmatic expertise across the continent. It focused on aligning the African centres' research endeavours with the CGIAR Regions and Partnerships (R&P) Strategy, which holds significant potential for driving positive transformation within Africa's agricultural landscape.
During the visit to Nigeria, Djikeng also paid a courtesy call to the Executive Governor of Oyo State, Oluwaseyi Abiodun Makinde. Djikeng shared a story of the influence of livestock in his upbringing recounting how the sale of his mother's chickens enabled him to overcome financial hurdles and pursue his education after African swine fever had wiped out his father's pig herd. This poignant account underscores the significance of livestock, not only as an economic asset but also as a lifeline for progress and development. The governor shared how the sale of goats (livestock) funded his father's education, underlining the universality of such experiences for many people in Africa and the vital role of livestock in education and economic empowerment.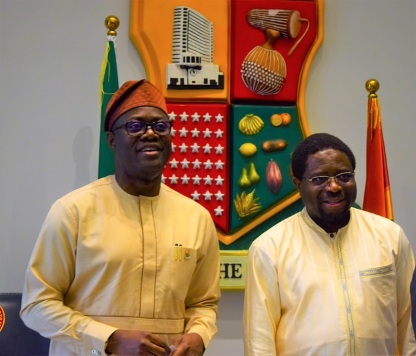 The visit culminated in a heartwarming reception at the ILRI Nigeria country office where Djikeng interacted with the staff, toured the innovative High Quality Cassava Peel (HQCP) factory and visited a demonstration farm.
The director general's visit not only strengthened the collaboration between ILRI and other CGIAR centres but also highlighted the transformational potential of livestock in shaping lives and economies. It resonated deeply with the ILRI Nigeria and CGIAR staff inspiring a shared commitment to harnessing the power of livestock research to uplift communities and drive sustainable change.