Taking a One Health approach for healthy landscapes, people, animals and wildlife
Several years ago, it was estimated that the future costs of disease pandemics could be in the same order as those of climate change. As the ongoing global pandemic of coronavirus disease 2019 (COVID-19) continues to upend lives and economies, those costs are becoming clearer by the day. 
Yet knowledge, funding and policy leadership for stopping or managing zoonotic disease outbreaks has been in sparse supply so far. Now, spurred by the mounting fallout of COVID-19, experts warning of growing risks and offering practical solutions are finally gaining much-needed attention.
At this week's Global Landscapes Forum, the International Livestock Research Institute (ILRI) and the United Nations Environment Programme (UNEP) are co-hosting a session titled Building back better: Taking a One Health approach for healthy landscapes, people, animals and wildlife. This virtual event will take place on Thursday, 4 June, 11:00-12:30 CEST, and registering for a USD 10 ticket gives you access to follow and contribute to not only this session, but to the forum's entire three-day program.
The 'One Health' approach is based on the premise that the health of animals, humans and the ecosystems they share are inextricably linked. In other words, it is the continued degradation of our natural environment – through land degradation, wildlife exploitation, resource extraction, climate change and other stresses – that is causing a rise in zoonotic disease outbreaks. This implies that to prevent future pandemics, decision-makers such as governments, agricultural and environment funders and planners must systematically consider these interlinkages when designing new policies and investments. It also calls for greater collaboration between the human health sector and environmental and animal experts.
Learn about some of the practical One Health policy options available to the global community from ILRI's Deputy Director General Iain Wright, UNEP Director of Ecosystems Susan Gardner and Patrick Amoth, Acting Director General of Kenya's Ministry of Health and Vice-President to the Executive Board to the World Health Organization.
Listen to ILRI and UNEP experts provide the evidence and solutions: Delia Grace, epidemiologist and veterinarian, on why zoonotic diseases are becoming more common and why; Bernard Bett, veterinarian, on One Health approaches for preventing zoonotic diseases; Johannes Refisch, wildlife expert, on impacts of COVID-19 and zoonotic diseases on the environment, and Doreen Lynn Robinson, biologist, on policy and investment recommendations.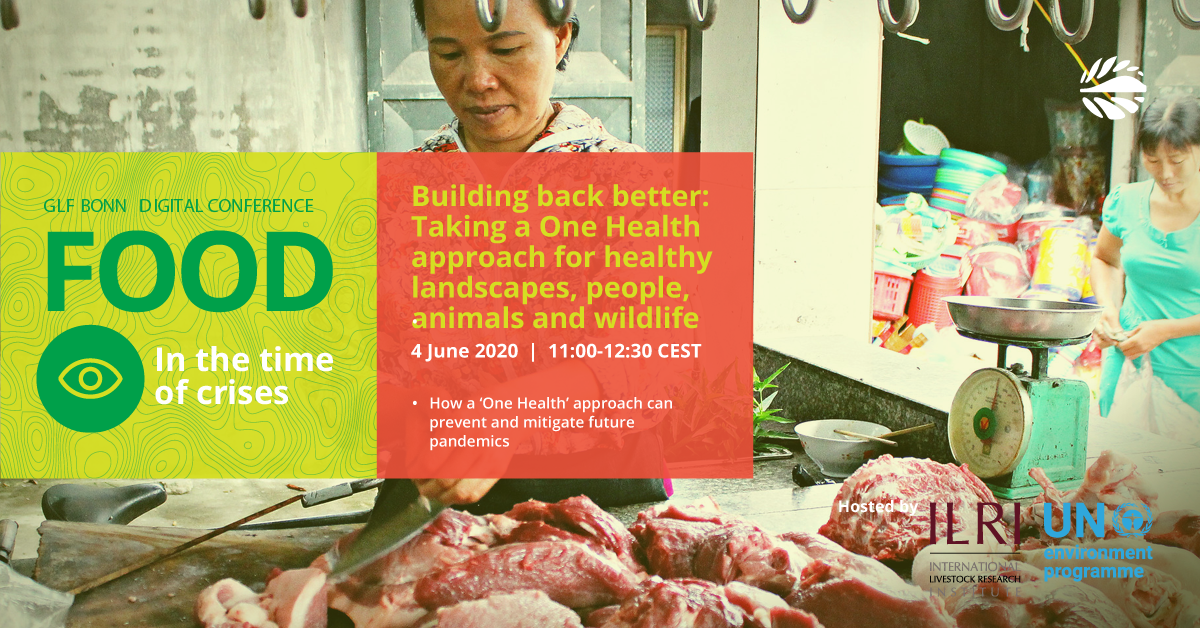 Selling pork at a traditional 'wet' market in Hung Yen province, northern Vietnam. Photo credit: ILRI/HUPH/Ngan Tran.
Throughout the session, speakers will seek to answer some of the many pressing questions currently emerging on COVID-19 and zoonotic diseases:
What is really the origin of COVID-19, and what do we know with certainty?
What exactly is the connection between zoonotic diseases and biodiversity?
If coronavirus transmission has been associated with traditional wet markets, does this mean that wet markets should be banned?
Why has the impact of COVID-19 varied from one country to another?
Are zoonotic disease outbreaks to be the new normal, or is there something we can do to prevent future pandemics?
Discussions will also draw on a forthcoming research-based report, to be published jointly by UNEP and ILRI, that will offer practical steps governments can take to prevent diseases from crossing from animal hosts and into the human population in the future.